Man Utd home advantage led to penalty decisions - Sam Allardyce
Last updated on .From the section Football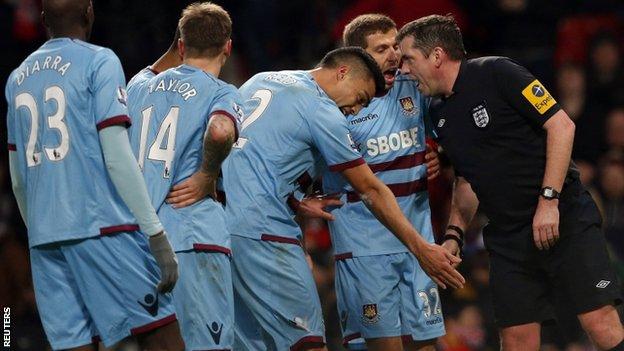 West Ham manager Sam Allardyce says the decision to deny his side at penalty at Old Trafford but award Manchester United one, was down to home advantage.
Allardyce's side were denied a penalty when the ball struck Rafael's arm, only for the hosts to be awarded one later when Jordan Spence handled late on.
"You see it time and time again at Old Trafford," Allardyce said at full-time.
"There's no doubt about the difference between Rafael's handball and Jordan Spence's.
"Spence plays for West Ham and the away team, while Rafael plays for the home side at Old Trafford."
Rooney went on to blast the penalty over, but Allardyce was nonetheless furious at the decision.
"With Rafael, the ball hits his hand but no penalty is given. With Jordan Spence, the ball hits his hand and it's a penalty. The incidents are the same. If you give one you've got to give both, simple as that."
Allardyce went on to suggest that referee Phil Dowd had been perfectly-placed to give West Ham the decision, having seen the replays.
"The ref did not see Rafael's handball because of his position. But he was in a worse position to see Jordan Spence's than Rafael's."
Victory saw Manchester United through to a fourth-round tie against Fulham and veteran Ryan Giggs admitted he was relieved to get through. "I'm pleased," he said.
"It's the FA Cup and anything can happen. You saw that from some of the results last night, so I'm pleased to get through.
"When you've got players coming back from injury it can be tough sometimes. And we have to give credit to West Ham, they were tough to play against."