Scott Laird accepts Jamal Campbell-Ryce apology for tackle
Last updated on .From the section Football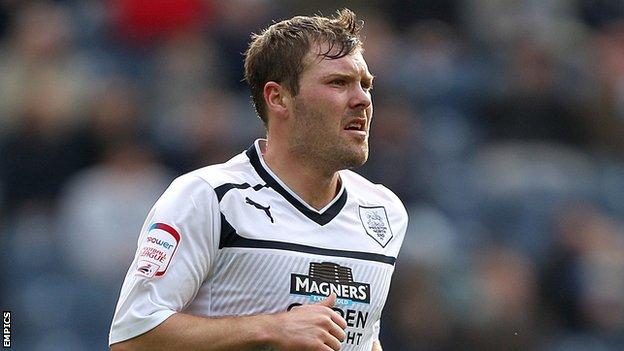 Scott Laird has revealed that Notts County's Jamal Campbell-Ryce has been in regular contact as the Preston full-back recovers from a broken leg.
Laird, 24, told BBC Radio Lancashire: "I knew him previously and he's rung me every week to make sure I'm alright.
"I'm not one to hold grudges anyway and he's been fine. I accept his apology."
The former Stevenage man continued: "He was very cut up about it. It was a naughty challenge and he admitted that.
"He knows he's done wrong and he was very upset about it. He was waiting for me in the tunnel [after being sent off] but I went the other way to the ambulance."
At the time, Preston manager Graham Westley but Notts County boss Keith Curle believed the challenge was not malicious.
Lairdis ahead of schedule with his recovery and expects to be back in action by the start of next season.
"I've been very lucky because in eight years playing football, I've never missed a game through injury," he added.
"I've missed games through suspension or lack of form, but never through injury, so that's a record I've lost. That's football."
Westley has pointed to the loss of Laird and right-back Keith Keane, who in the same game,
North End have won only one of their eight league matches in their absence.
To cover for the pair,