Theo Walcott: Arsene Wenger '99%' sure of new Arsenal contract
Last updated on .From the section Football352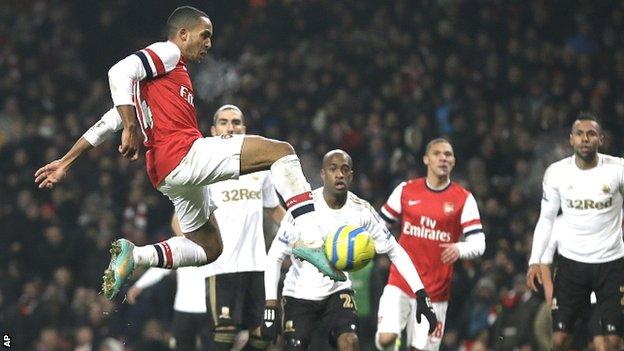 Arsenal manager Arsene Wenger is "99%" confident that Theo Walcott will sign a new contract at the club and hopes the deal can be finalised by this weekend.
The England forward, 23, is in the final six months of his deal and could leave on a free transfer in the summer.
But Wenger said: "My optimism is at 99% now. I was scared that he could leave.
"It took us some time to get where we want to get and it's still not finalised, but hopefully it will be done by this weekend."
Walcott is Arsenal's top scorer this season with 14 goals, his best tally in a single campaign since joining Arsenal from Southampton in 2006.
But he worth £75,000 a week in August and is holding out for closer to £100,000 a week.
"With the experience I have in negotiations, when things last too long it's never a good sign," said Wenger in the build-up to Sunday's trip to Chelsea.
"But I hope [it will be done by this weekend]. There is a possibility."
Wenger has been linked with a move for Crystal Palace winger Wilfried Zaha, and the Frenchman confirmed his interest in the 20-year-old.
"We are looking at him, but at the moment we have not made any bid for him," said the Gunners boss.
"I don't know if Manchester United are in for him as well but anyway if you call any club for any player they will tell you Man United, Milan and Real Madrid are all well in for him."
Reports have also suggested Arsenal are keen to sign Napoli's 25-year-old Uruguay striker Edinson Cavani.
"I like him as a player," said Wenger. "Will he cost a lot of money? That's for sure. Nobody would deny that. Our banker lives just next to me at the moment and he is ready if we find the right player.
"The prices go always up at the start of the transfer market and go down in the last week. Sometimes as well they go up in the last week, but most of the time they go down in the last week.
"You know 90% of the transfer activity happens in the last week, if not in the last 48 hours."