Hearts' transfer embargo lifted by Scottish Premier League
Last updated on .From the section Football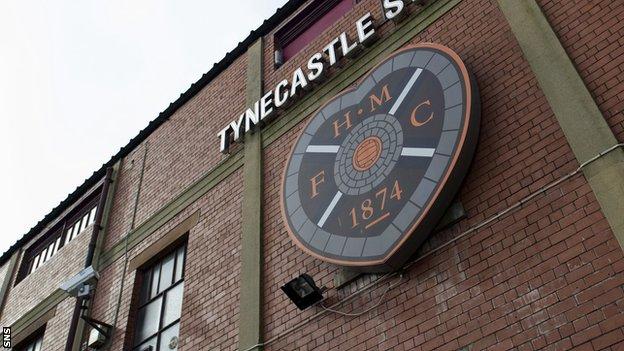 Hearts have had their transfer embargo lifted by the Scottish Premier League.
The Tynecastle club had been placed under a signing ban last year due to late payment of wages and it was extended over a "remuneration default".
The default related to bonus and appearance monies but the SPL is now satisfied payments are in order.
However, the club will only be able to sign under-21 players until the end of the season and will be restricted to a one-out, one-in policy.
Furthermore, any replacement signed must represent a lower "annualised employment cost" than the corresponding departing player.
Hearts were informed in December that these restrictions would come into force if and when the transfer ban ended.
An SPL spokesperson said: "The board of the SPL has received information, including details of January salary payments to players and coaches, as a result of which it is satisfied that the recent remuneration default is no longer ongoing.
"Consequently, Heart of Midlothian is no longer subject to the registration embargo which results from any remuneration default.
"However, the decision of the SPL board sub-committee on 31 December 2012 that the club should be made subject to restrictions on the registration of players remains in place.
"Until the end of Season 2012-13 Heart of Midlothian will only be able to register players on the following basis:
One-out, one-in (i.e. the club will only be able to replace such number of players as have their registrations with the club terminated - whether by sale, mutual agreement or otherwise)

Only under-21 players (as defined in the SPL Rules) will be able to be registered

Any new under-21 player registered must have an annualised employment cost lower than that of the player leaving the club."
Speaking at his weekly media conference before the ban was lifted, Hearts manager John McGlynn said: "When you look at it like that, where are we going to get players under 21 who are going to walk into our first team?
"It's quite a restriction and obviously that's why it was set out. It's quite a limited area we have got to get players from.
"Ryan McGowan has gone already, if we lost players at the last minute of the transfer window we would find ourselves putting more younger players into the first team."
And McGlynn added that, due to injuries and suspensions, the team that faces Celtic in Glasgow on Saturday "will probably be one of the youngest Hearts teams that's ever been put out".