Crawley Town: Jamie Proctor hopes for fresh start
Last updated on .From the section Football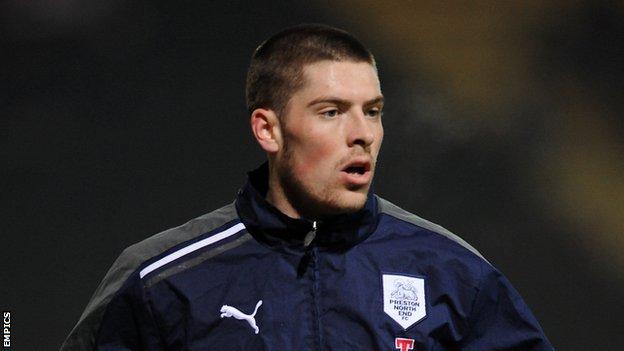 Crawley Town striker Jamie Proctor hopes to put a frustrating five-month spell at Swansea behind him after moving to the Broadfield Stadium.
He told BBC Sussex: "The move to Swansea was never a first-team move but I thought it would help me develop and I would still be playing games.
"It hasn't worked out that way and now I have come here I think it is a great move to kick-start my career."
He added: "I knew it was a gamble [moving to Swansea] but I was going there expecting to be playing week-in, week-out in an under-21 or reserve league.
"It wasn't the case because for whatever reason the games weren't organised and it is not a frequent league structure."
The former Preston North End trainee has only made three appearances this season, which all came during a one-month loan spell at Shrewsbury Town.
Last season he scored three goals in 34 games for Preston and Proctor has targeted regaining his best form after making the move to West Sussex.
"When I was at Preston I started off really well and then lost my way a bit as the season went on," he said.
"It was my first full season at Preston and I was playing more than I was used to and at a level I wasn't used to.
"I had a hernia operation that set me back quite a bit and I didn't really recover from it.
"Now that is out of the way it is great for me to get a fresh start.
"The main thing for me was confidence. I did lose that for some time but hopefully coming here will get it back."
Proctor also says he wants to repay Reds boss Richie Barker for bringing him to the Broadfield Stadium and giving him the opportunity to play in League One.
"When I spoke to him on the phone he said he had been looking at me for a while," Proctor said.
"To say he has been tracking me is a compliment and hopefully I can repay him.
"I didn't expect anyone to take me from Swansea as I had done nothing there, had hardly played any games and had not impressed anyone while I was there.
"To be given a chance in League One, I can't thank the manager enough.
"I obviously haven't played many matches recently but I feel ready."