Michael Appleton: Blackburn boss impressed with Venky's ambition
Last updated on .From the section Football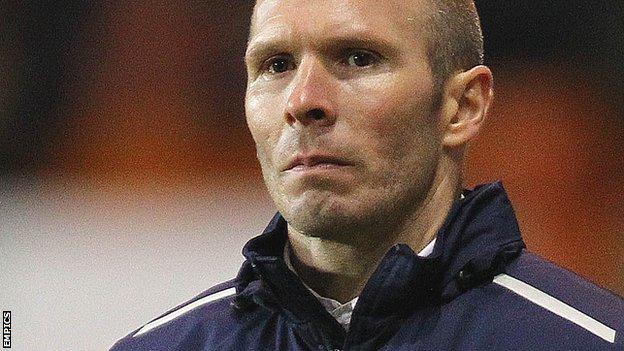 Blackburn Rovers' new manager Michael Appleton believes the side can win promotion to the Premier League this season and says the ambition of owners Venky's persuaded him to join the club.
Appleton was presented as manager at Ewood Park on Thursday, having
He spoke of his belief in the club's controversial owners and in the quality of the playing squad at Ewood Park.
"The owners are very, very ambitious," said the 37-year-old.
"They want to get back into the Premier League and I still believe there is an opportunity. An opportunity to work at a club that I think and believe is a Premier League club was too good to turn down.
"I spoke to the owners and they convinced me about their ambition."
Appleton is Blackburn's third permanent manager of the season, after the club first sacked Steve Kean, and then Henning Berg after 57 days in charge.
Blackburn's owners, Indian poultry giant Venky's, have attracted widespread criticism since buying the club in November 2010 - and they have seen Rovers go from the top half of the Premier League to the bottom half of the Championship.
Appleton was understated and direct throughout the press conference, and revealed he planned to add to the squad in January, working alongside Blackburn's global adviser Shebby Singh, who he has yet to meet.
"Blackburn is a club that is steeped in history and there's a lot of quality in the side," Appleton added.
"If we can take care of things on the field, by putting performances in, then that will bring results and hopefully lead to a stable environment off the field. The board are very ambitious, they want Premier League football, which I understand.
"We have got 20 games left and we are not a million miles away from the play-offs. It is reachable."
Appleton revealed he was keen for Gary Bowyer to remain with the first-team set-up, but said that had decided to return to working with the reserves.
He also confirmed the appointment of John Keeley, who he worked alongside at Portsmouth, as Rovers' new goalkeeping coach.
During his playing and coaching career, Appleton has worked under Sir Alex Ferguson, David Moyes, Roberto Di Matteo, Roy Hodgson and Tony Mowbray, and says he has learned from each of them.
"I have worked with some very, very good managers," he added. "If you have got anything about you, you take little bits. It is dangerous to model yourself on one person, but you have to be yourself, have your own personality.
"I worked with Roy [Hodgson] for 12-18 months as his assistant. I still speak to him regularly. He is someone who, if I need an opinion in something, will be straight with it. He won't beat around the bush.
"When you have those allies in the game you can call on them when things aren't going well, or times are tough."
Appleton's predecessor, Henning Berg, but Appleton said he was not put off by the prospect of losing his job as quickly. "In my mind, it wasn't about Henning Berg getting 10 games, so I would get 11 or 12 games.
"I have never shirked a challenge. The challenges I have faced at previous clubs have been of the highest order and it doesn't get any different here."