Bafana Bafana boss Igesund hopes hosts can defy odds
By John Bennett
BBC World Service Sport, Johannesburg
Last updated on .From the section Football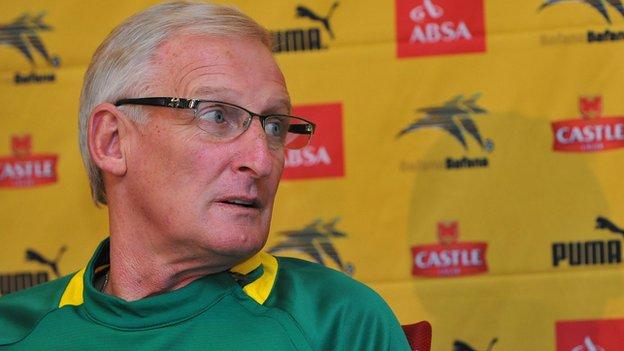 South Africa coach Gordon Igesund says he's confident that his players can defy the odds and win the Africa Cup of Nations for the first time since 1996.
The hosts meet debutants Cape Verde in the opening match of the tournament on Saturday.
Bafana Bafana have not won a Nations Cup game since the 2004 finals in Tunisia.
Igesund has also had to deal with criticism levelled at his team due to recent poor form in friendly matches.
The 2010 World Cup hosts warmed up for the tournament with a 1-0 defeat to Norway and a 0-0 draw with Algeria and are currently ranked 23rd in Africa.
"With a little bit of luck and if we start scoring goals, I think we can go all the way," Igesund told reporters on Thursday.
"Hopefully, things go well for us and we get a bit of a roll going, especially with the support we are going to get behind us, 90,000 people in the [National] Stadium.
"It's not an easy task. We've got to respect the teams around us. There are some very good teams here, but I think we're very capable."
Igesund also admitted that he has never seen South Africa's first Group A opponents Cape Verde play live.
The Blue Sharks qualified for the tournament with a shock victory over Cameroon in October and will be hoping to cause another upset on Saturday.
"I've got a lot of information on them and we've got a company that does all the analysis.
"So I've got a lot of insight about their team, about how they play. I've watched all their DVDs, individual tapes of all their players, [Guy] Ramos and [Ryan] Mendes, all these players.
"We are pretty aware of them. I'm sure they are aware of us as well. We've got the best information we can get, considering we didn't see them live."
The Bafana Bafana head coach also says he has been working hard to keep his team selection for the first match a closely-guarded secret.
Igesund claims he has been rotating players in the pre-tournament friendlies in an attempt to make it harder for Cape Verde coach Lucio Antunes to work out his starting eleven.
"I've had to be very careful. I've had to keep the opposition guessing," he said.
"I would love to know their starting eleven. When you know exactly a starting eleven, it's a lot easier to prepare against a team.
"If I've thrown a few curve balls here and there. I've had to do it. You'll see the team on Saturday."
Meanwhile, South Africa captain Bongani Khumalo praised his team-mates for agreeing to forego their bonus payments in the group stage of the competition.
"I think that speaks for itself, in terms of the confidence we have in each other, as well as the message we're trying to send out there," Khumalo said.
"We're here to fight for our country.
"I think the perception has always been that players are a bit selfish, but the way we've set that structure speaks for itself."