Justin Edinburgh confirms County in market for centre half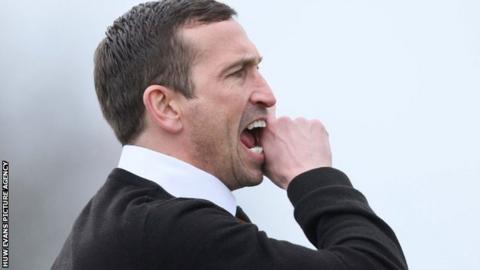 Newport County are looking to sign a centre half before the transfer window closes at the end of January.
But manager Justin Edinburgh has warned selling clubs not to ask for too much money.
"If people are asking unrealistic money we won't pay it," said the former Tottenham star.
Newport, currently second in the Blue Square Bet Premier League behind Wrexham, face struggling Barrow in Newport on Saturday.
Edinburgh said he was conscious that some believed Newport were big spenders because the club's chairman Les Scadding is a Lottery winner.
"It makes no difference to us, we'll only pay what we think is the right price for any player," he said.
"We're looking to bring another centre half to the football club, but he's going to have to be better than what we've got.
"To find that right now is a difficult task and hopefully we can add before the window closes."
County could overtake Wrexham at the top of the table if they beat Barrow, with their Welsh rivals' match at Lincoln subject to a pitch inspection on Friday.
But Edinburgh is warning fans not to expect their bottom-placed opponents to be a pushover
"If anybody turns up on Saturday and expects us to turn Barrow over then they're going to be in for a surprise. They're fighting for the lives," he said.