What does Pep Guardiola's Bayern move mean for Chelsea?
By Alistair Magowan
BBC Sport
Last updated on .From the section Football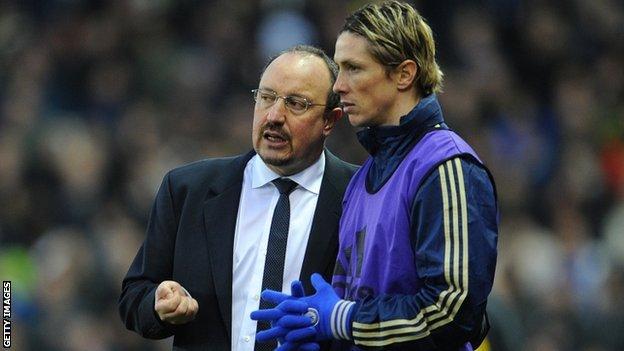 Wednesday was not a particularly good day if you were a disgruntled Chelsea fan, and there seems to be several of those at the moment.
With Pep Guardiola already linked with a move to Stamford Bridge next season, they awoke to news that the former Barcelona boss would relish an English challenge. Then they found out later in the day that the Spaniard, 42 on Friday, would be heading to Bayern Munich next season.
As if that was not enough, Chelsea threw away a two-goal lead against Southampton to draw 2-2 to continue their wretched run of home form.
For supporters who have always opposed the appointment of interim boss Rafael Benitez, Guardiola offered hope. It also looked like the obvious strategy for owner Roman Abramovich. Now the options are more limited for a club still struggling to evolve its playing squad.
There is some good news, though. Former Chelsea winger Pat Nevin believes that Guardiola's move has changed little at Stamford Bridge.
And he also thinks it could offer a clearer route back to the club for Real Madrid manager Jose Mourinho, who was a fans favourite between 2004 and 2007.
"It was no secret that Chelsea were keen on Guardiola and had been for some time," Nevin tells BBC Sport. "But I think Chelsea were acutely aware that it wasn't certain and as everybody knows about Chelsea, if they don't get one manager, there is always another one. I don't think they were panicked by it.
"It's the same if you are buying a centre-forward or a centre-back. As well as your first choice, you will have probably have a second, third, fourth and even a fifth choice. I'm sure they will have others in mind and they have got a manager in place at the moment, that they are obviously very hopeful for."
While Guardiola may no longer be a threat to the current Chelsea boss, Nevin is unsure whether Benitez's position has necessarily been strengthened.
There is little doubt that if Benitez wants to be around next season, he will have to overturn his team's home form, which has seen them win only two of their seven games since he replaced Roberto Di Matteo in November.
Contrast that with six away wins from seven and it appears that fans disgruntlement towards the former Liverpool boss is starting to affect the team.
In sacking both Mourinho and Di Matteo, it is obvious that Abramovich takes little notice of what supporters want so Benitez may take some solace in that.
And regardless of the manager, Nevin believes the biggest issue is transforming a team in which key personnel are reaching the twilight of their careers.
That task was beyond former boss Andre Villas-Boas and Mourinho stands out as the last man to act as a catalyst for the start of the most successful period in Chelsea's history.
For now, though, the Portuguese is under contract at Real until 2016, having signed a new deal last October. But a relatively poor season so far and fall-outs with captain Iker Casillas mean his future in the Spanish capital is less certain that it was.
"I would hope that Mourinho would come back to Chelsea in the longer term and I think he loved his time at Chelsea," Nevin, who made 237 appearances for the club, states.
"If you think of where he has been since, he has not had a better fit anywhere else and I don't think he has been so universally adored.
"But if Mourinho becomes available there will be quite a lot of people chasing him as there were Guardiola. And I would suspect there would be more people after Mourinho."
Other names that have been touted for the Chelsea job include Borussia Dortmund coach Jurgen Klopp, Atletico Madrid's Diego Simeone and Everton boss David Moyes.
"Managers go through phases where they are hot one minute and in six months they have fallen away. [Germany manager] Joachim Loew might be another name that might come up," adds Nevin.
"Moyes would be taking a big risk leaving Everton but he wants to have a go at one of the bigger clubs where he has money available, for the chance to prove himself at the top level.
"Would he be given enough rope to work in the manner which he does at Everton? Based on previous Chelsea managers, that might be unlikely.
"Chelsea generally look for managers who have a proven track record and have done well in Europe. Hence the reason why they went for Benitez.
"You need to look at the usual suspects. When it was unusual, in Villas-Boas's case, it didn't last. So I suspect they will look at the big sexy names again."
Whether Benitez figures or not, the spectre of Mourinho will still loom. The question is: would he go back?