Doncaster Rovers chairman: Brian Flynn was our first choice
Last updated on .From the section Football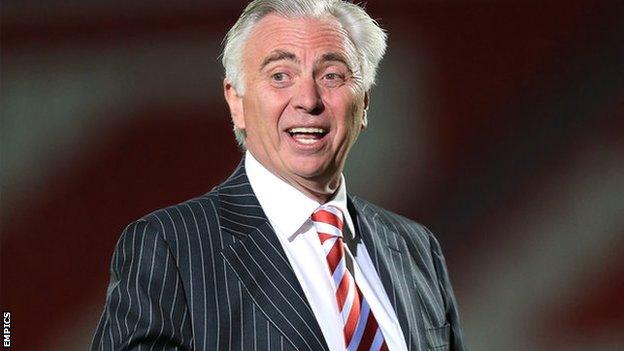 Doncaster Rovers chairman John Ryan has said that Brian Flynn was their first choice for the manager's position.
Ryan told BBC Radio Sheffield: "We had 175 applicants for the role but we didn't interview anyone else.
"Brian and Rob were our first choice and they were the first choice of the players as well," he added.
"Continuity was a big thing for us and as far as we were concerned nothing was broken so we didn't need to fix anything."
The former Wrexham, Swansea City and Wales Under-21 boss has been with the club in a scouting capacity since August.
Alongside the 33-year-old Jones, he led the club to last Saturday's 2-1 win at Stevenage, the duo having been placed in caretaker charge following the departure of Dean Saunders to Wolves.
Ryan praised Jones, who has scored six goals in 34 games since joining from Sheffield Wednesday in the summer, as one of the best signings since 1960s club legend Alick Jeffrey, who scored 129 goals in 262 games.
"He has been an inspiration and probably our best signing since Alick Jeffrey " he continued. "He's a natural leader.
"The players look up to him in every way and I honestly think that if he'd been here last season then we'd have stayed up."
Rovers are currently second in League One with a game in hand on leaders Tranmere and Ryan is keen to see the club go on to take the title.
"The goal is to win the league and we feel we are equipped to do that," he said.
"On our day we can beat anyone in this league and you only need to look at our away record to see that.
"We won't be crying in our milk if we come second, but I don't think there is anything in this league that frightens us."