Napoli have match-fixing points deduction overturned
Last updated on .From the section Football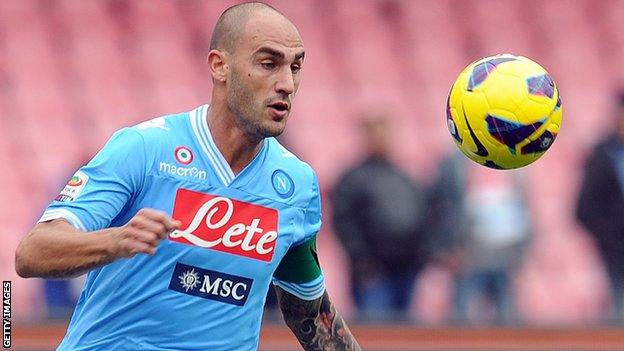 Napoli have had a overturned on appeal.
The club were punished following former goalkeeper Matteo Gianello's confession to an attempt to fix the Italian club's clash with Sampdoria in 2010.
The Italian FA (FIGC) had deemed Napoli "objectively responsible" for Gianello's actions at the time.
Six-month bans for Paolo Cannavaro and Gianluca Grava for failing to report approaches from Gianello were also overturned.
The FIGC also announced that a fine of 70,000 Euros (£58,000) imposed on Napoli had been reduced to 50,000 Euros (£42,000), while Gianello's ban was reduced from 39 months to 21.
"It's a sensational victory and a really important result," said club lawyer Mattia Grassani.
"Above all, justice has been done and what was unjustly taken from Napoli and its fans has been returned. It was a joy to inform president (Aurelio) De Laurentiis after I received the official report from the appeal court.
"This decision closes a really sad story for which Napoli and its players paid a very high price regardless."
The decision sees Napoli move back up into second place in Serie A, three points behind leaders Juventus.
Gianello, who is now a free agent, admitted his attempt to fix the game with Sampdoria, which they lost 1-0, at the end of the 2009-10 campaign.
Former Parma defender Cannavaro, who has been at the club since 2006, and Grava, who joined in 2005, had previously denied any involvement.
A wide-ranging criminal and sporting probe into illegal betting and match-fixing in Italy has already led to several arrests and bans.
In a separate incident, Juventus manager Antonio Conte was suspended for 10 months for not reporting match-fixing when he was in charge of Siena, then in Serie B, in the 2010-11 season.