Paolo Di Canio unaware of Swindon Town's money problems
Last updated on .From the section Football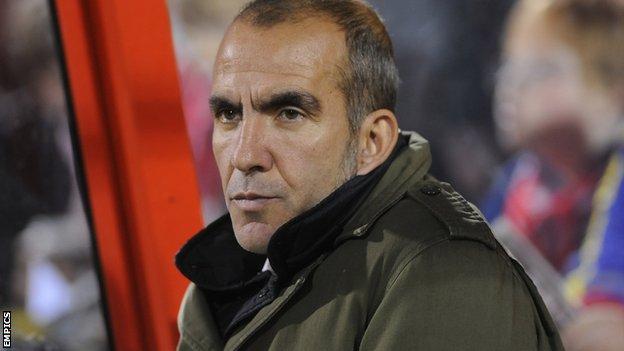 Manager Paolo Di Canio has insisted he was unaware of Swindon's financial problems, contradicting claims made by the club's chairman Sir William Patey.
And the chairman said Town's boss knew about the club's plight - with debt thought to be around £13m.
But Di Canio said: "It isn't true that I knew there were financial problems."
He continued: "In October - the last time I met the chairman and Andrew Black - someone said to me 'we don't have any problem and we can carry on with the plan'."
Di Canio has frequently referred to the club's 'three-year plan' - which marked out their intent to achieve back-to-back promotions under the Italian's rule, which began in May 2011.
They claimed the League Two title last season and are fifth in League One, but Di Canio feels off-field financial issues are stopping their progress.
In October they served a month-long Football League transfer embargo because they overspent on wages and fees, and Patey said they would not be able to add to their squad in the January transfer window.
BBC Wiltshire understands the club are considering entering administration, in order to clear £9m worth of unsecured debt owed to investors.
"We are fifth, with the best defensive and attacking record. In a few months we've delivered much more than we expected," added Di Canio.
"We agreed a budget in the summer and I still have money to spend but I can't, otherwise we risk going under the embargo.
"It is clear there is no longer an ambition for the plan that was presented in front of me a year and a half ago. But I want to think positive because in the tough times I want to send a positive message."
It is thought Di Canio's agent, Phil Spencer, is one of several parties interested in investing in the club.
And although Di Canio would not be drawn on whether Spencer was in a position to invest, he said his agent was "working hard" to find a buyer.
"Phil knows how to present the product and the Swindon product is something special. It was the best team in the football league in 2012. There's a strong interest.
"We feel completely involved in this project so we'll try and do what we can do.
"We need to do something for the people [fans] so they don't suffer, because they have in the past. We want to bring in new investors and give a good future for this club.
"I hope someone out there will invest because it would be a shame not to do this, because what we have done here with my players is something amazing."