Norwich City: John Ruddy muscle 'ripped off bone'
Last updated on .From the section Football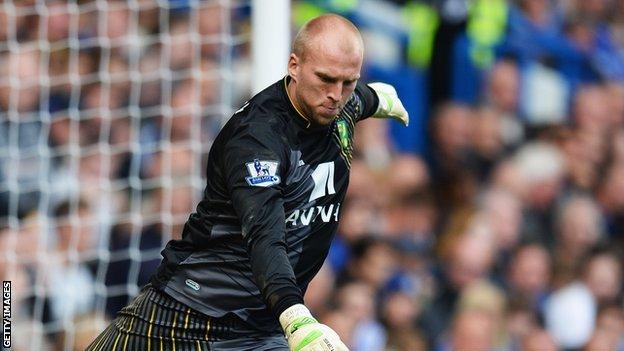 Norwich keeper John Ruddy has revealed the extent of the injury that has kept him out of action since November.
The 26-year-old England international suffered a thigh tear in a 1-1 draw against Everton eight weeks ago but hopes to be back in April.
"I ruptured my thigh, the top muscle. It basically ripped off the bone," he told BBC Radio Norfolk.
"I had the operation a week later. It all went very well. I had three and a half weeks off twiddling my thumbs."
Ruddy's form last season earned him a first England cap in a friendly against Italy in August, but a broken finger ruled him out of earlier games against Poland and Ukraine in May.
He played 14 times this term before suffering his latest setback and is currently stepping up his rehabilitation.
"Now I'm back and I'm making really good progress," he said.
"The brace comes off [on Friday]. I started quad loading this week and we're really happy with how it's gone.
"I see the team every day, but I'm not doing any work with them. They're busy out in the snow and I'm in the nice warm environment of the gym.
"I'm with the physios mostly and making sure I'm fitter and stronger when I come back."