Mauricio Pochettino says he must win over Southampton's fans
Last updated on .From the section Football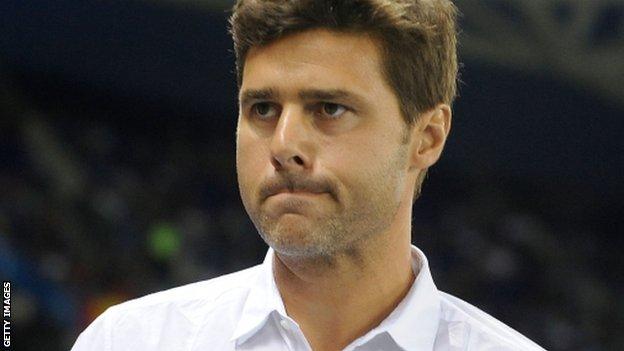 New Southampton manager Mauricio Pochettino says he faces a challenge to win over the club's fans.
The 40-year-old was in a surprise move by Saints.
He will be in charge for Monday's match against Everton at St Mary's where he will get an indication of the feeling amongst supporters.
Pochettino said: "I can't tell them what to feel but I have a lot of respect for how they react."
Adkins was sacked with the club three points clear of the Premier League relegation zone and on a run of only two defeats in their last 12 league matches.
Speaking through a translator, Pochettino accepted that he might face a backlash given the team's recent performances under Adkins where they most recently came from 2-0 down to draw against Chelsea at Stamford Bridge.
"Fans are free to express their feelings," Pochettino said.
"It is a great challenge to be here as part of this project and (winning) the kindness of the supporters is one of the biggest challenges that I have.
"I am sure they will be supporting the club for the 90 minutes the game will last.
"I hope I can convince them with hard work, honesty and that they enjoy the way the club plays and they feel honoured and proud how the team is playing."
Pochettino told the media that he has done his homework on the Southampton team prior to his arrival at the club.
He said: "I know about the squad because I've been researching them for several weeks.
"They have done really well in the Premier League. In Spain we follow it closely. I am a great admirer of English football and am happy to be here."
Pochettino, who won 20 caps for Argentina as a player, said he had consulted Real Madrid manager Jose Mourinho about moving to England.
He said: "I have seen many games, the Premier League is an attractive league and I have spoken to people at length about it, people such as Jose Mourinho, who is a good friend of mine.
"He told me the best football in the world is being played here."
The former Espanyol manager spoke largely through an interpreter, but did say in English: "I am very happy to be here in this amazing weather. It happened quickly, small details are not important, it's important I'm here at this project and club."