Charlton Athletic boss Chris Powell looks to build at The Valley
Last updated on .From the section Football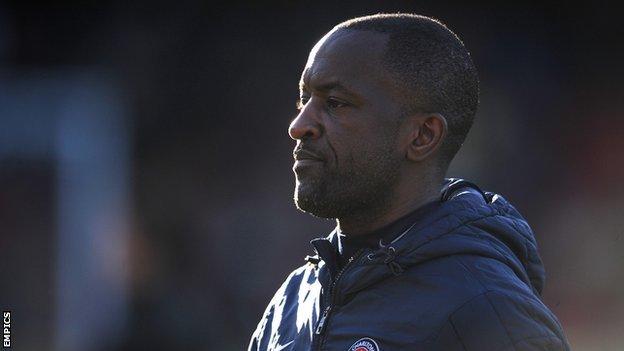 Charlton Athletic manager Chris Powell is aiming to establish the club in the Championship as he embarks on his third year in charge at The Valley.
Powell, who made over 260 appearances for the Addicks during his playing days, celebrated two years in the dugout last week.
He led Charlton to the League One title last season, in what was his first full campaign in charge, which saw the club return to the Championship after three seasons in the third tier.
Charlton currently sit mid-table, seven points off the play-offs, and Powell is keen for the club to progress steadily rather than go all-out for promotion to the Premier League, having not played in the top flight since their relegation in 2007.
"Last year was just an absolute dream for everyone," the former England international left-back told BBC London 94.9.
"We lost five games out of 46 and got 101 points; it was beyond what anyone could have thought for us.
"Now we are in the Championship I am still looking for us to improve.
"Do we try and emulate Norwich and Southampton or do we try and be a stable Championship club until we move on to those sorts of heights?
"Personally, I think it's about us establishing ourselves and competing well in this league and seeing where it takes us.
"Of course we want to move forward.
"We have to cut our cloth accordingly and I am the manager who has to put out the messages, not only to our players but also to our supporters, as we will only move forward together.
"I enjoy being at the helm and the long-term view is to get to the Premier League one day."
The landmark of two years in charge has given Powell time to reflect on how far the club has come and how much he has learned as a manager.
After hanging up his boots in 2010 after a playing career which spanned 24 years and spells with Southend, Derby County and West Ham, Powell joined the coaching staff at Leicester City.
He officially took over at Charlton on 17 January, 2011, with the club seventh in the League One table.
Despite the initial success which often comes with a new appointment, the Addicks then went on a run of 11 games without a win and finished in mid-table.
"My first game was great," the 43-year-old said.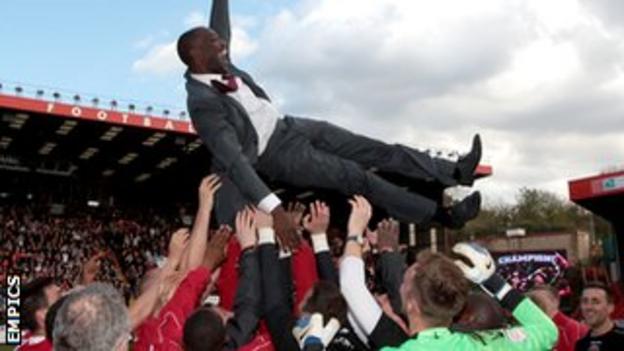 "Plymouth at home [a 2-0 win] was special for me and it was great to come back.
"Over the course of that season I had some harsh lessons.
"After winning the first four games we went on a really poor run. I learnt a lot about myself very early in my career.
"If you don't find yourself and find a way of keeping yourself going, you can go under."
Powell says their defeat away to Dagenham & Redbridge, where Charlton lost 2-1 and fell to their seventh defeat in eight games, proved to be a turning point in his reign.
"I always talk about the Dagenham & Redbridge game.
"That was the game that really said to me if we don't get ourselves in order as a football club, we will go down again.
"If you don't get a grip, it's something that can happen to you. I said to everyone we had to start afresh with players who were not touched by what had gone on in the past.
"We sorted out the squad and brought in a lot of new players.
"We did it together and our supporters bought into what we were doing."
Powell says that following their promotion to the second tier, different challenges have been posed to both him and his players.
He readily admits he feels the side are "six or seven points" short of where they should be, which would see them in the thick of the play-off race.
"We had a successful season [last year] but now we are competing in the Championship against sides which have come down from the Premier League, sides which have investment and sides who know what the Championship is about," he said.
"Not many of us do.
"I do as a player but I'm a manager now and it's totally different.
"I am quietly pleased with the response from the players when we have had poor results.
"I know our supporters always want us to win and they won't be happy when we don't but that is football and part of the journey we are all on.
"It is great for me to be in the job for two years and I want to have longevity in the game but I have to work hard to do that.
"In the short time I have been manager we have tasted success after the initial half a season I had.
"It's a case of learning, which invariably the players have done, and continuing that education with them and everyone taking responsibility in us getting wins and points to take us forward."