Zenit St Petersburg: Bruno Alves says he has 'not witnessed racism'
Last updated on .From the section Football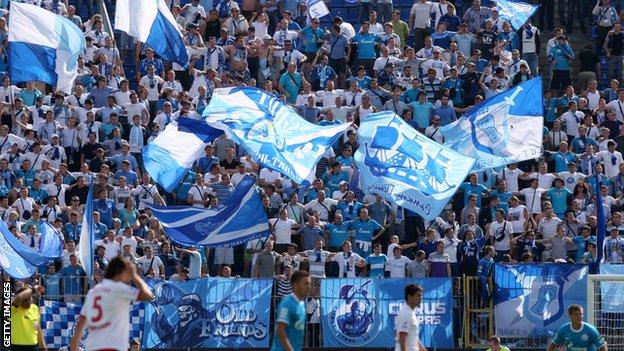 Zenit St Petersburg defender Bruno Alves says he has not witnessed racism from the club's fans.
This met with global condemnation, with Anzhi Makhachkala defender Chris Samba calling it "a sad day for Russian football".
Alves told the BBC: "Maybe this is a question that people think they have but I don't see anything."
Alves, 31, signed for Zenit in August 2010 from Portuguese side Porto and has won 60 caps for Portugal.
"For real, speaking for myself, the supporters and the fans have only supported me," he told the BBC's World Football programme.
"If I don't see anything, I can't speak about this."
Despite signing Brazilian striker Hulk for a club record £45.6 million in September, the letter continued: "As the most northern club of the major European cities, we have never been associated with Africa, South America or Australia and Oceania.
"We have absolutely nothing against the people of these and any other continent. But now black players are being imposed on Zenit almost by force."
In a section headed "The mentality of the human", the letter from fans also asked the club not to sign homosexual players.
It read: "We object to representatives of sexual minorities playing for Zenit."
However, Alves shrugged off the Landscrona letter, saying there are more important considerations.
He said: "I only see it in the media and this is not really important.
"What is important is what we can do on the pitch, playing well and winning games for Zenit.
"I came to Zenit to play football. To me, it's important to be fit, win games and win titles for the club and give my best."
Asked if he would encourage any black or gay players to sign for Zenit, Alves insisted that a player's talent is the most important factor.
"For me the quality of the player is important, not his colour or his choice," added Alves. "I try to respect everybody and respect all the cultures - what is important is the football.
"I was captain in Porto and foreign players arrived all the time and I received them very well."