DR Congo federation denies reports of coach resignation
Last updated on .From the section Football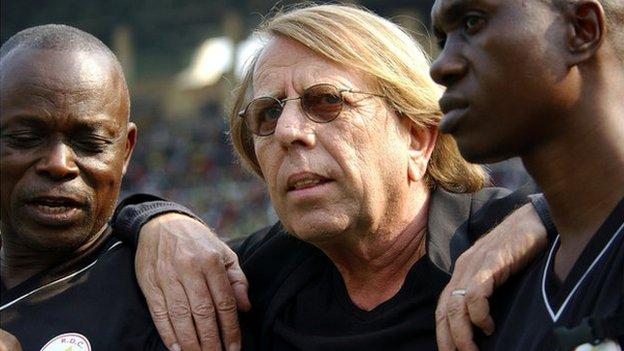 The president of DR Congo's Football Federation has dismissed reports claiming coach Claude LeRoy has quit on the eve of the Africa Cup of Nations.
Omari Selemani denied that the Frenchman had resigned in a row over bonus payments for his players.
"Claude is still the coach and will be in the dugout against Ghana," Selemani told BBC Sport.
DR Congo open their Group B campaign against the Black Stars in the South African city Port Elizabeth on Sunday.
"I had a working meeting with Claude this afternoon (Friday) and everything is fine. I also met with the players and there is no problem."
The issue of rowing over bonus payments in the run-up to a Nations Cup is nothing new to Congolese football nor LeRoy himself.
During their last Nations Cup appearance in 2006, the players were threatening to boycott a match against Togo until President Joseph Kabila promised them their extra payments just minutes before kick-off.
That distracted LeRoy from his pre-match preparations, with the same situation arising again.
The team's media officer Modeste Nzila has admitted there has been tension between LeRoy and the federation over the issues of bonus payments for the players.
The French coach, who led Cameroon to the Nations Cup title in 1988, has been widely praised by many Congolese fans for returning the Leopards to the tournament after a seven-year absence.
Meanwhile, DR Congo's Sports Minister Banza Mukalay - while denying the reports of LeRoy's exit - confirmed that there had been some delay on payments.
However, he insisted that this was because some extra personnel had been added to the list of those requiring payments.
"It's true that we haven't cleared the payment for the people added," Mukalay told BBC Sport.
"This is due to the fact that we've had two consecutive national holidays, which the payment procedures had to respect. The government didn't refuse to pay.
"Before the government has paid all payments it has been asked to - including the preparatory trips to Morocco and Oman, and even all the bonuses they have asked for for the group stage matches."
After taking on LeRoy's former charges Ghana, DR Congo face Niger (24 January) and Mali (28 January) as the two-time African champions seek to return to the top table of the continental game.