Kuwait coach who 'died' after shooting returns to the touchline
Last updated on .From the section Football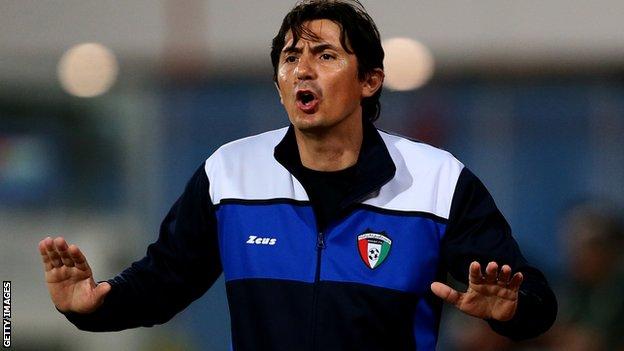 Kuwait failed to defend their Gulf Cup title this week, but given the circumstances finishing third can be seen as a triumph.
Five months ago, their coach, Goran Tufegdzic, was shot in the chest by a neighbour following a land dispute while he was back in his native Serbia.
The 42-year-old Serb required a life-saving operation and spent a month in a coma.
"I died once because my heart stopped and I got a second chance from God," he told the World Football programme.
"It's in the past for me and I'm thinking about the future and I'm trying to forget this time."
It was Tufegdzic who led Kuwait to their 10th Gulf Cup title in 2010 and the following year's Asian Cup finals in Doha.
But he is philosophical in the aftermath of his attack.
He said: "Sure, at this time you think about your life, about your job. Before I was a professional and now I'm the same.
"There's not too much difference about my job. Things are different about your life, generally, but about football, no."
Kuwait recovered from the disappointment of going out in the semi-finals to the United Arab Emirates by thrashing the hosts Bahrain 6-1 in the third-place play-off.
The Gulf Cup is seen by many fans in the region as the most important international tournament for their nations as it presents a realistic chance of a trophy.
Before the semi-final and final, the UAE's president, Sheikh Khalifa, as well as the country's most famous rally driver, Khalifa Al Mutaiwei, chartered planes to take Emirati fans to Bahrain for free to support their country.
"These are derbies between countries in the Gulf and this is something special," said Tufegdzic.
"For all these countries it's very important - I think it's more important than the Asian Cup or even the World Cup.
"I can't forget the last Gulf Cup. In Kuwait there were celebrations for more than three days."