Celtic: Clubs must 'dig deep' if they want Gary Hooper
Last updated on .From the section Football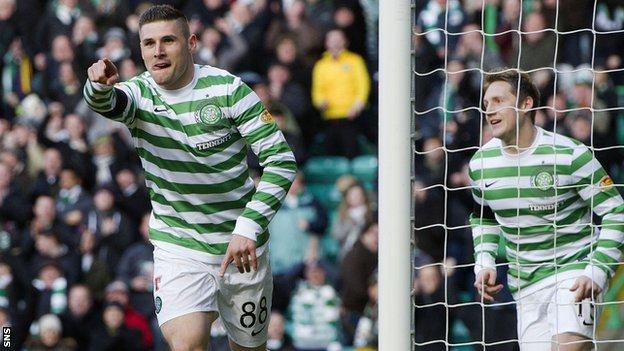 Celtic manager Neil Lennon again stressed his desire to keep top-scorer Gary Hooper after the striker scored twice in the 4-1 win over Hearts.
"He's improving all the time and, rightly, clubs are interested in him," Lennon told BBC Radio Scotland.
"But he's ours and we want to keep him for a long time. Any clubs after him will have to dig deep. We're not encouraging any offers."
Hooper knocked in an early goal against Hearts and added his team's third goal late on, with Georgios Samaras and Lassad Nouioui also on target for Lennon's side.
Speaking after Norwich lost 5-0 at Liverpool, Canaries boss Chris Hughton confirmed his club were after Hooper, adding: "There has been a statement from Celtic which we have to accept".
The former Scunthorpe striker is under contract until the summer of 2014 and has been made an offer to extend his stay in Glasgow.
"I thought Hooper was fantastic again today from start to finish," enthused Lennon. "His all-round game, he just keeps getting better and better.
"He gets two goals today, but what pleases me more is his contribution to the team today, he worked really hard.
"He's got a really quick mind.
"There's a contract on the table for him, and if he wants to take it it's there for him.
"It's down to the kid at the end of the day, my advice is always take the money when it's in front of you - you never know what's round the corner in football.
"There could be avenues that open up to him in the summer, but, for now, take the money, enjoy your football and see what the next step round the corner is."
Buoyed by Hooper's early goal, Celtic dominated the first-half and should really have been more than 2-0 up at the break.
Hearts were given an unlikely lifeline by Jason Holt's deflected strike before the home side wrapped up the points with two late goals.
"I thought we were great today, from more or less start to finish," said Lennon. "That's the way I'd like us to play, particularly at home.
"We lost our way for ten minutes, but overall I'm delighted with the quality of the play and the performance.
"My only criticism is I'd like us to put away teams earlier.
"Some of the football we played in the first half was the best we've played for a long time and I think we've entertained the fans as well today."
Regular goalkeeper Fraser Forster was missing with a neck injury, with Lukasz Zaluska taking over.
"I'm very pleased with Lukasz, he deputised very well," added Lennon. "I thought he was solid."
Lennon has added defender Rami Gershon and midfielder Tom Rogic to his squad this month and is still on the look-out for new recruits.
"I hope to, if we can, but it's never easy," he said. "January's always a difficult time to bring players in."