Kilmarnock manager Kenny Shiels dismisses talk of Harkins departure
Last updated on .From the section Football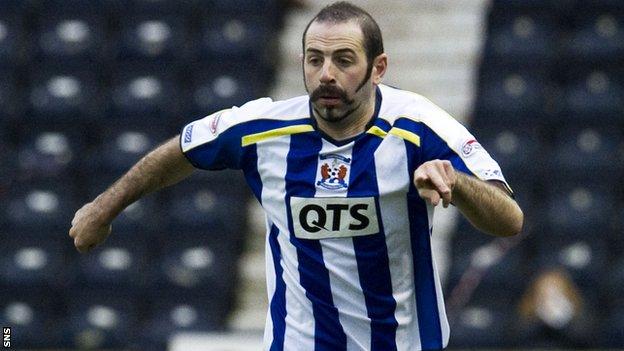 Kilmarnock manager Kenny Shiels insists Gary Harkins is not re-joining Dundee.
Shiels felt Killie were worthy of at least a point against the Tangerines and said of Harkins: "He's not leaving, he's one of the best players in the SPL.
"There's a good chance he'll be playing against Dundee next Sunday."
And he added: "There's other people, Lee Johnson's not in the team. Why is it always Harkins you guys [the media] bring up?
"Jeroen Tesselaar, Garry Hay; these guys are left out the team. I don't think it's fair on Gary that you isolate him."
The Killie boss was heartened by his team's performance at Rugby Park and felt United had got the breaks on the day.
Shiels echoed his chairman Michael Johnston's comments to BBC Radio Scotland earlier in the day regarding media reports of an imminent winding-up order facing the club over a bill.
"It's a non-story," said Shiels.
"It's sensationalism and it happens on a daily basis."
Reflecting on the game, Shiels lamented on the fact Russell chose this match to burst back into scoring form.
"They had only the one way of playing and we were looking after that quite well," said Shiels.
"I was just thinking to myself, Johnny Russell's gone off the boil and then he scores.
"He was a little bit absent in the first 40 minutes and then he pops in with a really good finish and ends up scoring a hat-trick.
"We're trying to re-adjust and I don't think we deserved to lose today.
"If you look at the way we played today, it's only a matter of time before the results turn."