QPR manager Harry Redknapp wants more new signings
Last updated on .From the section Football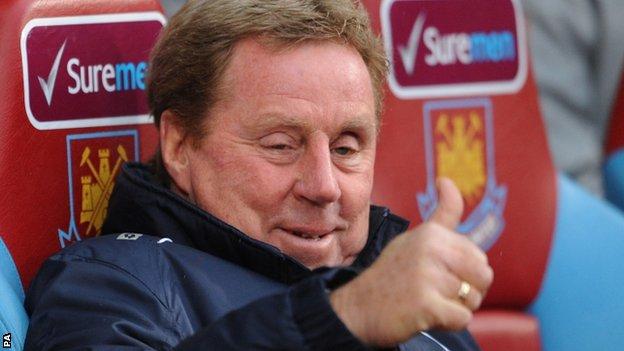 Queens Park Rangers manager Harry Redknapp has spoken of the importance of strengthening his squad before the transfer window closes on 31 January.
His latest signing Loic Remy scored on his debut in the 1-1 draw at West Ham.
"We do need to make one or two signings in the right positions and let one or two lads go," he told BBC Sport.
"The squad needs improving - we saw that today with Remy's goal. We couldn't have scored a goal like that a few weeks ago, with that pace."
He added: "If we had picked up three points he would have paid off a large chunk of his fee right there. But there are one or two other quality players around who we have been talking to.
"In the long-term we need a centre half, because Ryan Nelsen is going to be leaving us [to become Toronto manager] which is a big loss. But I am looking to improve the quality and strengthen other areas too."
QPR, who are unbeaten in five games, went ahead through Remy's first shot in English football but Joe Cole's first West Ham goal for 10 years earned the hosts a point.
Redknapp saw enough from Remy, the £8m signing from Marseille, to give him hope. "It was good to see him score in his first game," he said.
"I thought at that stage of the game, he and [Adel] Taarabt were going to do a bit of damage today. He [Remy] will do that. He's got great movement off the ball and if you can get people to slide him in when he makes those runs, he will get in because he's got lightning pace and he will score some goals. He'll do OK.
"We haven't had any pace up front. If I can get Bobby fit, next week he could be around and ready to play, I think Zamora and Remy could be a real good partnership."
Redknapp also reiterated how close he had come to signing Cole from Liverpool. "I wanted Joe. I would've had Joe about two weeks before West Ham got him. I just felt we took a long while to get it sorted. It just dragged on too long.
"Once West Ham come in he's only ever going to come to West Ham. I don't blame him. This is his home. This is where he started as a 12-year-old when I signed him. He's a fantastic boy."