Africa Cup of Nations 2013: South Africa coach blames his players
Last updated on .From the section Football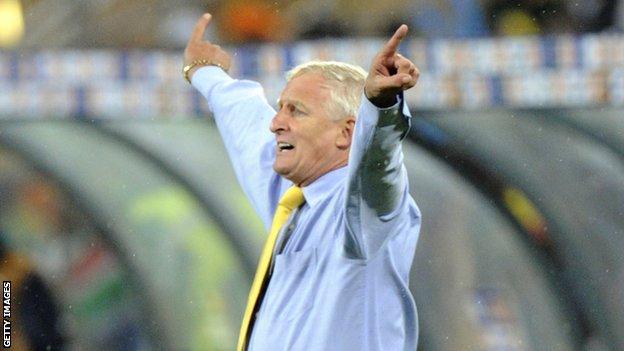 South Africa head coach Gordon Igesund accused his players of losing their nerve after being held to a goalless draw by Cape Verde in the opening game of the Africa Cup of Nations.
Igesund, the country's third coach since they hosted the 2010 World Cup, made no excuses for the hosts' poor display at Soccer City in Johannesburg.
"Not too many of my players came to the party in the first half, which was a total waste of time," he said.
"We weren't much better in the second."
Africa Cup of Nations debutants Cape Verde, the smallest country in the tournament, were more than a match for the hosts and had arguably the best chance of the match when a defence-splitting pass from midfielder Babanco set up Platini, only for the Portugal-based forward to screw the ball wide.
"There were big gaps between the midfield and the strikers and we tried to get the ball to the strikers too quickly," Igesund said.
"Too many balls were played over the top at 100 miles per hour, which is something we don't want to do. Some of the players seemed to freeze when the whistle blew and lost their nerve. Perhaps for some of them the occasion was a bit too big.
"We now have to go for it in our next two games against Angola and Morocco. Of course we wanted to win and get a goal and get all three points, and we are not doomed yet. But we need to improve.
"Credit to Cape Verde. They are a good, well-organised team and play like Europeans. They defended well, slowed the game right down in the second half and got the point they came looking for."
In contrast Cape Verde coach Lucio Antunes was delighted with the result which, he said, brought dignity to the country. "It was mission accomplished," he said.
"The team was excellent, we did the job we came to do and met our objectives and now we can concentrate on our next match against Morocco. I am happy, the players are happy and the technical staff are happy.
"We dignified our country today. It is a small country of 500,000 people, but we made them proud and have nothing to fear in our remaining games."