Fifa boss Sepp Blatter seeks tough action on racism
Last updated on .From the section Football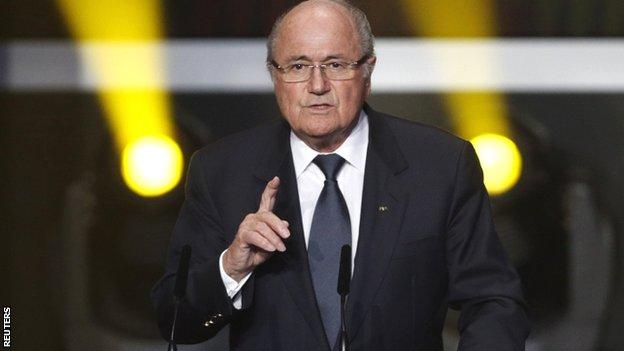 Fifa president Sepp Blatter has given his strongest indication yet that teams could face points deductions or even relegation if guilty of discrimination.
In October Serbia were told to play one match behind closed doors and fined by European governing body Uefa following racial abuse to England U21 players.
But Blatter said on Twitter: "Financial sanctions: not efficient. Matches behind closed-doors not good solution."
Considering alternatives he added: "Deduction of points/team relegation."
The 76-year-old Swiss, who has been in charge of world football's governing body since 1998, has been criticised for not placing enough emphasis on racism in football.
In November 2011, he insisted racism on the pitch was non-existent, and that any issues could be resolved by a handshake, only to claim later that his comments had been misinterpreted.
And earlier this month he said Kevin-Prince Boateng was wrong to walk off the pitch having been subjected to racist abuse whilst playing for AC Milan in a friendly match against Italian lower league side Pro Patria.
However, in his latest remarks on the subject he said: "Sanctions against discriminatory acts must be very severe. We'll discuss this at the next Strategic Committee in three weeks."
Blatter has also revealed that he plans to meet with Uefa president Michel Platini over the £65,000 fine handed to the Serbian FA following the Under-21 match against England, which finished in an unseemly brawl between opposing players and even involved members of both coaching staffs.
Four Serbian players were banned, while two of their coaches are suspended for two years but the punishment was thought by many to be too lenient, particularly in view of the £80,000 fine imposed on Denmark's Nicklas Bendtner for promoting a betting company on his underwear during Euro 2012.
Blatter said last month: "I'm sure that we can pick up with Uefa [about] the level of governance that there should be in all football - not just with Uefa but all other confederations and national associations.
"There should be very strong, harsh punishment when it comes to discrimination and racism."