Eunan O'Kane forgiven for 'phantom whistle' penalty gaffe
Last updated on .From the section Football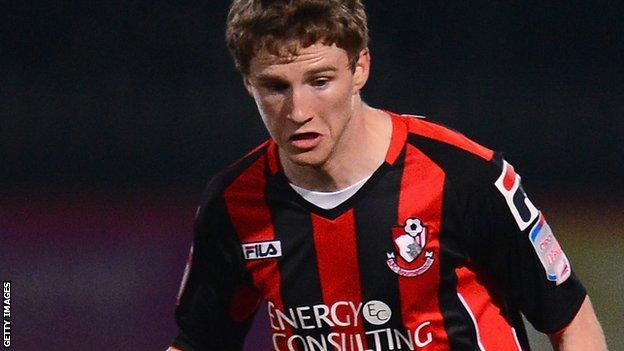 Bournemouth boss Eddie Howe refused to blame Eunan O'Kane after he conceded a penalty by picking the ball up during their 3-1 defeat by Walsall.
Midfielder O'Kane, 22, insisted he thought the referee had blown up for a foul on a Cherries team-mate.
"It was a free-kick, it should never have been a penalty," Howe told BBC Radio Solent.
"You can't attach any blame to Eunan, he's picked the ball up almost in good faith really."
The penalty was duly despatched by Will Grigg, his second of the game, and ended Bournemouth's 15-match unbeaten run in League One.
Afterwards, O'Kane went on Twitter to declare: "I can only apologise for what happened today! Thought I had heard a whistle so was trying to get the ball back to them to speed the game up!"
And his manager indicated that if anyone was at fault, it was match referee Andy Davies.
"It was a bizarre incident really," he said. "I mean it was clearest free-kick you'll ever see.
"Steven Cook's almost in desperation because he's been done by the centre forward, who's hacked him down to almost stop him coming into the box, rightly or wrongly.
"Everyone in the ground expected a free-kick, Eunan's heard a phantom whistle and he's picked the ball up," said Howe, who was otherwise generally unhappy with his side's performance.
"It's something he'll learn from. I don't think he'll ever do it again.
"If he's in doubt, I suppose he'll kick it away - but if he'd kicked it away, he might have got a booking.
"I think the referee had a difficult game, that's the polite way of putting it."