Plymouth Argyle fans reject chance to buy 20% stake in club
Last updated on .From the section Football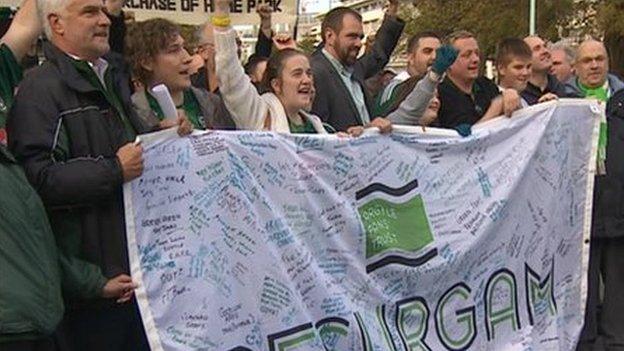 Plymouth Argyle Fans' Trust has decided not to take up the chance of buying a 20% stake in the club.
But the Trust says there is little interest from its members to raise up to £400,000 which would be needed.
"We believe it would be irresponsible of the Trust to commit so much supporter time, energy and money to the pursuit of the offer," said a statement.
The Trust was set up at the end of 2010 as Argyle started to suffer financial problems.
The club went into administration in March 2011 and the supporters group helped raise money and awareness of the club's situation
Only 11% of the Trust's membership backed the plan, with the offer of a stake in the club not being tied to having any influence on running it, such as a seat on the board.
Instead the Trust is looking into the option of a 'golden share' agreement.
This would be an agreement whereby supporters would have to be consulted before any major changes to the club such as a new ground or a change of home kit colour.
"We will now focus on exploring other options that have been put to both James Brent and our membership," added the Trust.
"We will seek to formulate a proposal outlining a way forward for supporter engagement with the club that would help safeguard the future of our club while also achieving the Trust's objectives.
"We look forward to a positive dialogue with James Brent as we seek to help him enshrine the principles of community, supporter interaction and sustainability, that we share, at the heart of our club."