Argentina and Brazil's youth teams flounder in World Cup qualification
Last updated on .From the section Football52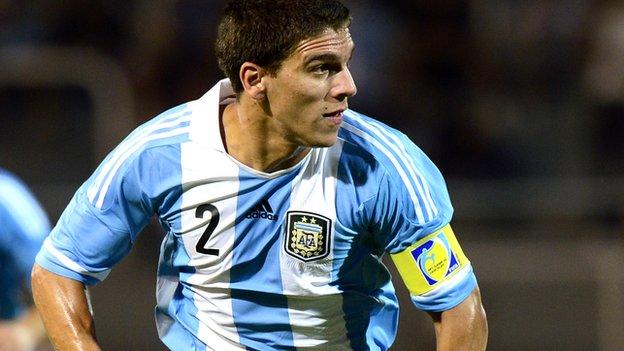 Football history will be made this year. When the World Youth Cup kicks off in Turkey in a few months it will be the first time that a global Fifa competition does not include either Brazil or Argentina.
The giants have not made it through from South America's Under-20 Championships. They have failed to grab one of the slots that the continent has - and they have missed out by a huge margin, not even qualifying for the second round, where six teams fight for the four available slots.
Brazil, reigning world champions at this level, astonishingly finished bottom of their first round group of five. In their group Argentina finished second from bottom - a 3-2 win over a largely reserve Colombia side in their last match was entirely academic. Their fate had already been sealed.
Argentina won the world title at this level five times between 1995 and 2007. It is true that since then there has been a sharp decline in the standard of their youth sides. But, especially with home advantage in the current tournament, it was felt that this team would have enough quality to make its mark. They went into the competition selecting an array of attacking talent dubbed by the local media as 'the fantastic five'.
Inflated reputations may have something to do with the disappointing performances of the South American giants. Clubs, agents and the press all have a vested interest in the premature conveying of 'wonderkid' status.
Nevertheless, both Brazil and Argentina have players capable of bouncing back from this setback. In 1992 Cafu and Roberto Carlos were part of a Brazil side that did not even get close to qualification for the Barcelona Olympics.
They may well believe that an early dose of failure can bring its own benefits. And it is always worth remembering that there are no definitive defeats at youth level. Results should never be the number one priority. The Under-20 ranks are all about grooming players for the long term.
The early elimination of Brazil and Argentina can certainly be seen as a failure - but not because these countries will not be adding to their list of titles.
Rather, it is a failure because this generation of players will miss out on valuable international experience - they will not play in the five decisive games of the South American Under-20 Championships, let alone the chance to come up against styles of play from other continents in the World Youth Cup in Turkey.
The story can also be flipped round and seen from the other side. If Brazil and Argentina have been eliminated it is because their opponents were better.
The big two paraded no one with the class of Colombia's wonderful left footed playmaker, Juan Fernando Quintero - the one player present who would seem capable of making an impact on next year's senior World Cup. With his generation of ideas, his push and run organising and his Glen Hoddle-esque capacity to pass beyond the defensive line, Quintero is a joy to watch.
As is Nico Lopez of Uruguay, a left footed striker of intelligent movement. Or another left footer in his team, dynamic midfielder Diego Laxalt. The incisive running of Paraguayan midfielder Jorge Rojas is catching the eye, as is the all-round quality of Chile's Bryan Rabello.
Peruvian strikers Yordy Reyna and Cristian Benavente are full of elusive danger, and Ecuador's Carlos Gruezo is the kind of unspectacular midfielder whose quiet proficiency keeps his side ticking over. All of these and others have shone much more than the big names from Brazil and Argentina.
One of the explanations for this is that they have been operating in a better collective context.
In the current Under-20 tournament neither Argentina nor Brazil really looked like a team. Argentina had occasional moments of clarity, but in the case of Brazil it was hard to identify any coherent idea in their play. And if they were poor going forward, defensively, both left even more to be desired.
In the second half of a 2-1 defeat to Paraguay, Argentina's centre back combination of Lisandro Magallan and Lautaro Gianetti appeared never to have been introduced to each other. They were neither providing cover nor stepping up to play offside. Five times the pair of them were taken out with a single pass.
Brazil's defence was even more of a shambles. There was no cover for the attacking full backs, no pressure on the ball and not the slightest idea of how to play a high line, with one of the centre backs, team captain Luan, looking thoroughly out of his depth.
It is perhaps just as well Brazil did not make it to the second stage. Then they would have to face Colombia, and Quintero would have passed holes in them.
And so Brazil were eliminated, along with Venezuela - though the continent's traditional whipping boys had much more reason to go home happy. At the turn of the century Venezuelan football took off after a sequence of wins in World Cup qualification. Then they were happy go lucky. The next stage has been to tighten up the defence.
So far in the 2014 qualification campaign they have conceded just nine goals in nine games, and the same attention to defensive detail was present in the Under-20 tournament.
In four games they let in just four goals - three of them penalties, and the other on the counter-attack when their centre backs were caught upfield for a corner. Otherwise a confident keeper (Contreras) was well protected by a no-nonsense pair of centre backs (Angel and Peraza) and a back four that played well as a unit.
A decade ago it was inconceivable that a Venezuela Under-20 side would be able to defend better than Brazil or Argentina. And just two weeks ago it was unthinkable that neither of South America's big guns would make it to the World Youth Cup.
Comments on the piece in the space provided. Questions on South American football to vickerycolumn@hotmail.com, and I'll pick out a couple for next week.
From last week's postbag:
I was disappointed when Birmingham City decided against signing Christian Benitez (Aka Chucho) in 2009. Blues fans took to him as he fitted the mould of the usual Birmingham striker, works hard but struggles to hit the target.
How's Chucho getting on now and is there any chance of seeing him playing football in England again? Ross Morgan
An interesting question indeed with just a few days left in the transfer window! He is doing very well, a key player for Ecuador and for his club, the giant America of Mexico City, where he is a huge star.
He was disappointed that no other English club picked him up when the Blues let him go, and I would share that disappointment. In fact it really surprises me. He's such an interesting player - quick and two-footed, can work both flanks and get into the box to score.
It might not be easy to tempt him out of the Aztec stadium, but you could see him doing a job for plenty of Premier League sides.
What is it with South American keepers taking penalties and set pieces? Rogerio Ceni, Rene Higuita and Jose Chilavert bagged loads of goals from pens and set pieces, and Sebastian Saja scored a pen as recently as last week!
In fact, I found a list of goalscoring keepers online and the majority are South America - is there an explanation for this? Elliot Smith
I think it's mainly a case of the positive effect of an example. Higuita inspired Chilavert, who in turn inspired Rogerio Ceni. Once they saw that it was possible they decided to have a go on the training ground and discovered that they had a talent for it.
Rogerio Ceni really is extraordinary, with more than a century of goals to his name. I think he's more deadly from free-kicks than he is from penalties, with superb technique for getting the ball over the wall and down in time to drop below the bar. But I don't think it would have happened without Chilavert showing him that it was feasible for a goalkeeper to try it.