Paolo Di Canio buys pizza for Swindon helpers who cleared pitch
Last updated on .From the section Football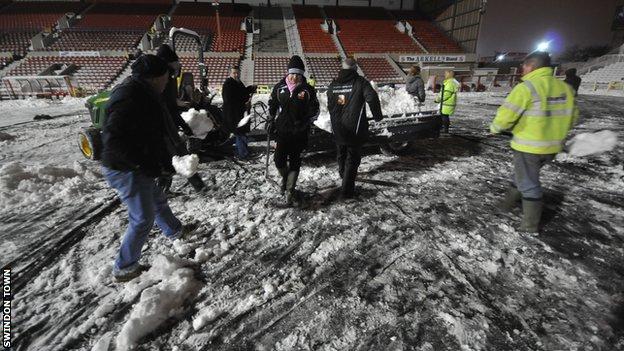 Swindon Town manager Paolo Di Canio rewarded volunteers who helped Saturday's match against Shrewsbury go ahead by buying them all pizza.
The County Ground pitch was covered by snow on Friday afternoon and the club appealed for helpers to clear it.
Around 200 people, including Di Canio and his staff, worked to remove the snow and the game went ahead.
"It wasn't easy to handle the situation - it was an emergency," Di Canio told BBC Wiltshire after their 2-0 win.
"When we decided to order the pizza there were about 60 people but then it became over 200.
"It wasn't enough because in one minute they had finished the pizza."
Swindon's game was one of only six League One matches that avoided postponement, following widespread snow across England and Wales.
Di Canio continued: "Everyone thought the game was going to be postponed but I was sure we would do everything.
"It was an emotional moment. You could see kids with their dads and they came with curiosity, but also with an intention to work hard.
"What they have done is amazing and I can't mention every single name but I had a chat with a few of them.
"We didn't play fantastic, like we have in the past, but we won and it's a present for them."
After a poor first-half performance, striker Chris Martin slotted home a penalty before Andy Williams added a second to move Swindon third in the table.
The victory came days after it was revealed Swindon were being put up for sale because owner Andrew Black was no longer willing to invest in the club.
Di Canio added: "It was a strange week in general. I'm very pleased the players gave their best.
"I told them if we lose this game we have an appointment at 5am at Liddington (training ground). That was enough because they don't like to get up early with the snow."