Portsmouth staff told they face further pay cut
Last updated on .From the section Football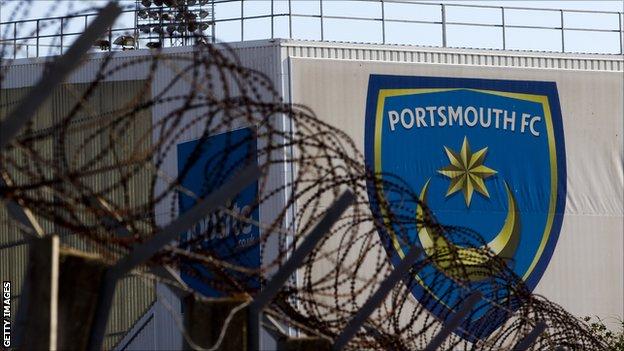 Staff at beleaguered Portsmouth have been told they face a further pay cut as the club looks to stave off liquidation.
The club are £61m in debt and have been in administration since 17 February.
In 2012, administrators PKF made around 40 staff redundant while also allowing all of their senior players to leave.
"As part of our ongoing efforts to restructure the club's costs, we have asked staff to take a further pay cut," said administrator Trevor Birch.
The staff in question - which does not include players - have already seen their wages cut several times in the past 12 months, but are expected to be forced to accept a further 10% reduction.
"We appreciate that these measures are very painful for those involved," Birch added.
"But we are still in a critical condition and wouldn't be undertaking them if they weren't necessary. We thank the staff for their continuing loyalty and commitment in what is a stressful time for all concerned."
The club are currently in the process of a takeover bid by the Pompey Supporters' Trust, but their purchase is conditional on them taking control of Fratton Park.
Administrators PKF are attempting to force the sale of the ground through the High Court.
The club's stadium is currently controlled by former owner Balram Chainrai via a fixed charge and the Hong Kong businessman believes he is owed £12m by the club.
The PST has offered Chainrai £2.75m but he is holding out for around £9m.
A decision on the sale of the stadium had been expected to be made in December but that hearing was adjourned until 31 January.
The delay in a decision is continuing to put the club in danger of liquidation, with the pay cut necessary to avoid further redundancies.