Northampton Town: Boothroyd admits players could leave
Last updated on .From the section Football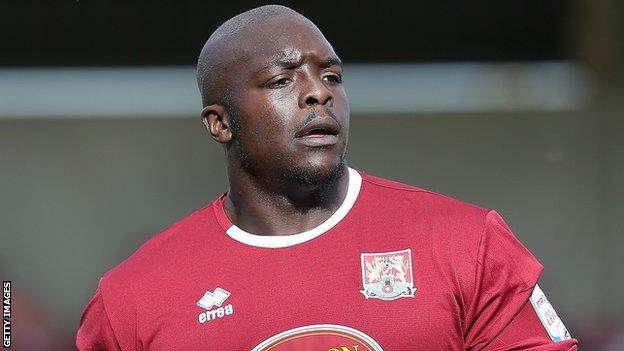 Northampton Town manager Aidy Boothroyd has admitted players could leave during the transfer window - but has insisted it could help him improve the squad.
But supporters fear leading goalscorer Adebayo Akinfenwa could be a target for clubs in higher divisions.
Boothroyd said: "Everybody has a price, and I can't honestly tell you who is going to come in for our players."
Akinfenwa's strike was the 30-year-old Londoner's 15th of the season for Northampton, 14 of which have come in the league. The club's next highest goalscorer is Alex Nicholls with eight (seven in the league).
Akinfenwa himself said he could not guarantee he would still be wearing a Northampton shirt when the transfer window closed.
"Some things happen because they're meant to, not because you want them to," he said.
"Everyone knows I've got so much love for this place. They've got crazy love for me, it's my second home away from Catford, but some things happen because they're meant to - let's leave it at that."
Boothroyd told BBC Northampton sales could give him the money to strengthen the squad.
"I don't want to be a manager who just balances the books and finishes mid-table or just about the drop zone, and I think we've managed to attract some really good players here.
"But if someone does come in for one of the players, and it's a good sum of money, then there'll be a decision to make because I might be able to improve the team.
"As a manager I know exactly where we are as a club, and we don't want to get ourselves into a situation that other clubs have got themselves into with ridiculous amounts of debt and needing a sugar daddy to bail us out, or going into administration - the club has been there before.
Chairman David Cardoza confirmed players may leave Sixfields but that others could come in.
"We're in a perfect position now to have a real good push and get the play-offs or automatic [promotion]. There might be one or two going out but there should be one or two coming in," Cardoza said.