Liam Bridcutt rues Brighton & Hove Albion mistakes
Last updated on .From the section Football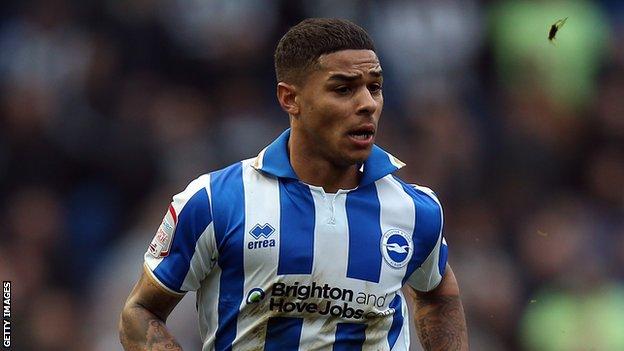 Brighton midfielder Liam Bridcutt says the side must cut out mistakes if they are to stay in contention for the Championship play-off places.
Bridcutt told BBC Sussex: "We've got to stop dropping silly points. We need to cut out the mistakes.
"The way we have been playing and the quality that we have been showing has been there. It is about concentration."
Brighton are now six points off the play-offs following the 2-2 draw against the Blues at St Andrews.
"We know we have dropped big points [this season]," the 23-year-old added.
"Realistically, we should have won against Birmingham.
"We were the better team by far.
"We worked hard throughout the game and tried to dominate it, although it was a bit hard with the pitch being awkward to play on.
"We are disappointed but you have to keep battling away and doing things right."
And the former Chelsea trainee has backed Kuszczak to return stronger after his mistake for Birmingham's late equaliser.
The Polish stopper let Nikola Zigic's header slip through his hands and into the net in the 92nd minute of the game.
"I don't think there's much you can say to him," Bridcutt said.
"He's got enough experience to bounce back from it.
"It's one of those things. He knows it was a mistake and you have to let him get on with it."
Meanwhile Bridcutt was delighted to see playmaker Vicente return to first-team action after a long absence through injury.
The 31-year-old former Valencia player made a late cameo from the bench for his first appearance since August.
"We've all been looking forward to seeing Vicente back," Bridcutt said.
"He is a player who brings unbelievable quality to the team.
"When he comes on he lifts the game. He makes everyone's jobs easier as he has the quality to produce.
"It's great to have him back."