Sir Alex Ferguson asked by FA to clarify match official comments
Last updated on .From the section Football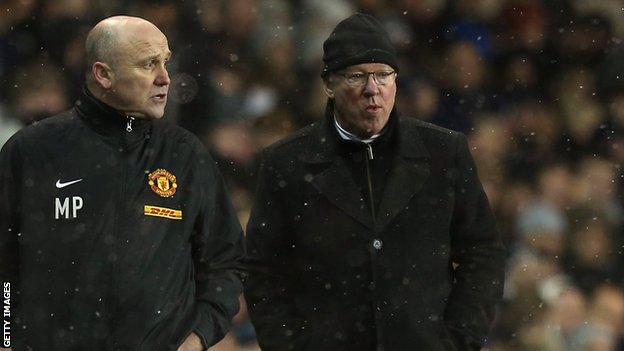 The Football Association has asked Sir Alex Ferguson to explain comments he made about a match official after the draw with Tottenham on Sunday.
The Manchester United boss accused assistant referee Simon Beck of failing to give Wayne Rooney a "clear" penalty.
"He had a really poor game," added Ferguson, who has until 18:00 GMT on Thursday to respond.
He also brought up Didier Drogba's offside goal against United in April 2010 which Beck helped rule legitimate.
After seeing his side surrender two points courtesy of Clint Dempsey's last-minute equaliser in the 1-1 draw, Ferguson criticised Beck for his actions both past and present.
"There was no way the linesman was going to give that - he gave them everything," fumed Ferguson.
"It was a clear decision. And he was 10 yards away, maybe 12 yards away from the incident and he doesn't give it. And yet he gave everything else."
And Ferguson was also quick to point to another incident with Beck, when United were beaten 2-1 by Chelsea in April 2010.
Despite Chelsea striker Drogba looking offside, Beck allowed the goal which proved to be the winner, and it proved a pivotal moment in the title race, which Chelsea would eventually win.
"I am disappointed with him [Beck] - we have not had a good record with him," Ferguson told BBC Sport.
"With Chelsea a couple of years back, he gave onside to Didier Drogba and he was three yards offside. You remember these things because it is in important games and that was an important game."
The 71-year-old has been asked to explain comments by the FA before, after claiming referee Alan Wiley was not physically fit enough to referee following United's 2-2 draw with Sunderland in October 2009.