Clubs like Brighton & Millwall take steps to halt declining attendances

By Rajeev Gupta
BBC Radio 4 You and Yours Reporter
Last updated on .From the section Football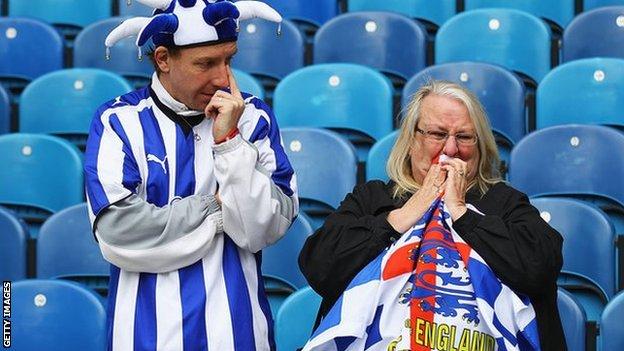 On a cold and wet Saturday afternoon at Brighton & Hove Albion, 27,000 dedicated fans turn up to pack out the Amex Stadium.
Brighton are the only football team outside the Premier League to sell out almost every week but, unfortunately for the rest of the Football League, the picture elsewhere is not as positive.
A BBC Radio 4 You and Yours survey looked at Football League teams who have played in one division for five consecutive seasons or more, and the findings show that there has been a drop of around 430,000 fans across all three divisions.
Hardcore supporters
The Championship accounts for almost all of this decline, with League One and League Two remaining fairly stagnant.
Millwall, a club famous for its hardcore supporters, has seen its 20,146-seater stadium remain at just over half full for almost a decade despite big investment in attracting fans. That equates to almost £2.5m in lost revenue for the club every season, an amount which could drastically turn around the finances of any Football League club.
"It's a sign of the economic climate," says Andy Ambler, chief executive at Millwall. "We've been aware for a long time that there are other leisure activities that we're competing with and it's up to us to change to make sure families want to come and watch football on a Saturday afternoon."
A sign adorns the entrance for away supporters at Millwall, 'Welcome to the Lion's Den.' The South East London club's past reputation for hooliganism precedes them, but take a step inside the Den now and you are never too far away from walls of children's paintings or helpful staff. Service with a smile.
The club are the first to accept it is not what you expect to see at the Den, but this is part of the 'change' the club speaks about. A way to bring in new fans as well as keep the old ones coming back.
"Of course having a family stand is a conscious effort to bring in the fans," said Ambler. "This area is one of our most popular.
"We know statistically that kids choose who they're going to support by the ages of eight or nine and we also know that the Premier League is so big that you go into schools around our area and see kids with Manchester United or Chelsea shirts on.
"What we are is a community club and we need the community to support us back in order to survive."
Stadium consultant John Dix, who works with a number of clubs to help increase attendances, says Millwall are not the only ones looking at different ways of getting more people through the turnstiles.
Rising price
"Clubs really need to understand why their fans come to games and then work on building that loyalty by treating them with respect to keep them coming back," said Dix.
"But there are things that they can do straight away, like making sure they have comfortable seating, clean toilets, convenient places to park and good access. Even making sure people get served quickly at half-time makes a big difference to a fan's match-day experience."
When quizzed if it is actual performance on the pitch that really matters most, Dix is quick to give the example of Norwich City, who despite relegation to League One in 2009 still managed high attendances of more than 24,000 - which he puts down to "an excellent marketing and communications" campaign by the club.
Brighton are another club who say they've got it right. Aided by the construction of their brand new stadium they have had the best attendance figures for any Football League club for the past two seasons and are now expanding further by taking their capacity to more than 30,000 for the 2013-2014 season.
However Richard Hebbard, the club's chief operating officer, insists it is not just the new facilities or even good performances that brings in supporters.
"We see this as more than just the 90 minutes on the pitch," he said. "We think we need to provide a customer experience.
"We open our doors and bars two hours before kick-off, which means fans can come together, have a drink and chat with friends. We also open late into the evening and might even have a band on in the bar which means people feel like they're paying for a night out."
The Seagulls also run initiatives like putting on a house ale just for away fans, serving gourmet pies at half-time and upholding a friendly stewarding policy, making sure fans are never 'herded' around.
It's fair to say Brighton's Amex Stadium is different from their former home, the Withdean Stadium, and there can be little doubt they have benefited from having new airy concourses and excellent transport links.
They also do well out of not having any Premier League or Championship clubs within a 45 mile radius of them, whereas Millwall face competition from eight different teams within just an 11 mile radius.
This probably helps explain the difference in ticket prices between the two clubs. Brighton charge as much as £39 for a match-day ticket whereas Millwall is cheaper at around £30.
After speaking with fans it appears that it is the rising price of watching a live game that puts them off most. A recent BBC Price of Football survey found the average ticket price for football went up by 12% between 2011 and 2012 - five times more than inflation.
Clubs run regular promotional days to offer discounted ticket prices and recently Brentford ran a 'pay what you feel' day while Morecambe opened their gates for free.
Football League clubs are becoming increasingly conscious of the need to be innovative and dynamic in the way they operate, especially in hard economic times.
"It's about finding a balance," added Millwall's Ambler. "We don't want to discount our prices and change the club so much that it keeps our lifelong fans from coming back but we appreciate the need to get new fans to come and be with us on our journey.
"That way we'll have more money to put better players on the pitch and hopefully achieve the goal every Football League team wants to achieve - Premier League football."