Arsenal players care as much as legends - Arsene Wenger
Last updated on .From the section Football354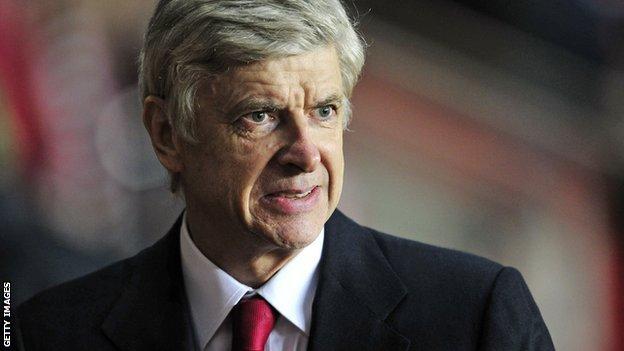 Arsenal boss Arsene Wenger insists his current side care as much for the club as the famous names he has previously managed at the London outfit.
The Gunners lost 2-1 at Chelsea on Sunday after a poor first-half display and are seven points behind fourth-placed Tottenham in the Premier League.
When asked if his team cared as much as Arsenal legends Tony Adams, Martin Keown, Patrick Vieira and Thierry Henry, Wenger said: "Of course.
"They care as much, if not more."
He added: "People have the right to criticise when the games don't go as well as you want but I can show you games of the players you spoke about [and] I can tell you some bad starts [from them] as well, believe me.
"I can show you some goals where you can see where they were not completely untouchable. That happened to them as well."
Wenger said he was calm at the gap between his side and the all-important Champions League-qualifying fourth place in the top flight with Wednesday's game against West Ham in hand, although he did admit to concerns over his team's form after two league defeats on the trot.
"The position we are in now is a little bit back-to-the wall and we have to respond," said the Frenchman. "I'm confident that we will but the team was very down after the Chelsea game.
"It [West Ham] is a very important game for us.
"What is worrying is that we do not win the big games and, at the moment, we do not get the results we want. That is more worrying than the difference of points [from fourth], which mathematically is not dramatic.
"But the consistency of our performances within the game is what is worrying."