Gary Hooper: Celtic reject 'improved offer' from Norwich City

By Chris McLaughlin
Senior Football Reporter, BBC Scotland
Last updated on .From the section Football208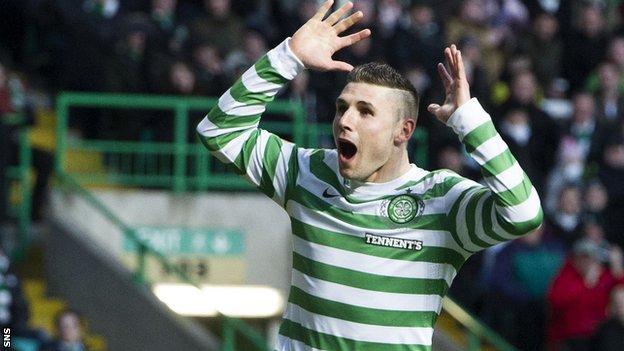 Celtic manager Neil Lennon has told BBC Scotland the club have rejected an "improved offer" from Norwich City for Gary Hooper.
The 24-year-old has turned down what the striker believes is the club's final offer of a contract extension.
Last week Norwich had a bid, reported to be about £5m, rejected for Hooper.
"We've had an improved offer, if you want to call it an improved offer, from Norwich and that's been turned down automatically," said Lennon.
"It's as you were - 18 months [remaining] on his contract, he's a Celtic player and I'm hoping it remains that way.
Of the Norwich bid, Lennon said: "It wasn't much more than the original offer. It was nowhere near £6m.
"It was completely rejected and even if it was £6m it would be completely rejected."
Hooper has been a huge success at Celtic Park, joining from Scunthorpe for a £2.4m fee in 2010 when he signed a four-year deal. He now stands on 70 goals since his move to Glasgow.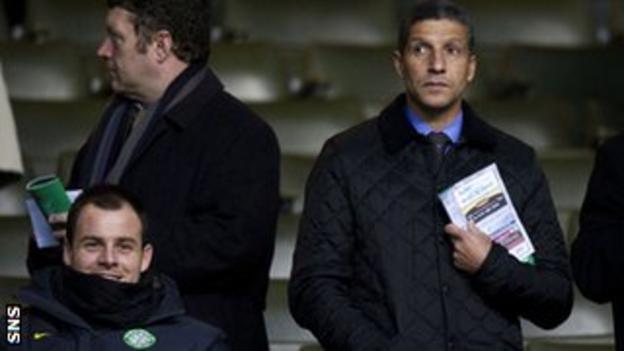 Lennon explained that the new contract was offered to Hooper some time ago.
He said: "It's not the latest offer because we made the offer to him three months ago so it's been sitting on the table for three months.
"We're disappointed again that these things have come out in public and I'm not too sure where they're coming from, but it's certainly not from us.
"It's as you were. He didn't like the look of the contract three months ago and nothing's changed. We feel it's a very good offer.
"It would make him in the top two or three paid players at the club. I'm sure he wants to be the highest paid but sometimes you can't always get what you want. We're very comfortable with the situation.
"Our stance on it is that come 1 February the contract offer will be withdrawn so they've got a lot to think about it, Gary and his representatives.
"In between January and the summer things might again if he keeps progressing the way he is. But it's status quo.
"Eighteen months is 18 months - it's a long time in football. Six months is a long time in football.
"If he doesn't want to sign the contract, that's his decision. It wouldn't be my advice but that's Gary's decision or his representatives' decision and we're quite comfortable with that.
"We made this offer to Gary and his entourage in October so the contract's been sitting there ever since. Now, all of a sudden it's been rejected and it's no coincidence it's the last 10 days of the [transfer] window.
"I'm pretty sure Gary will be a Celtic player come 1 February."