Manchester United keeper David de Gea 'has manager's backing'
Last updated on .From the section Football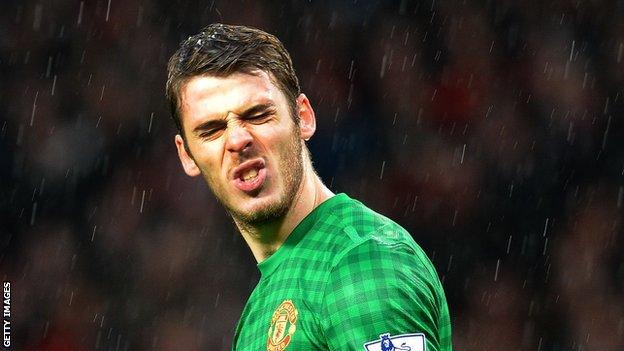 Former Manchester United goalkeeper Roy Carroll believes manager Sir Alex Ferguson will stand by current number one David de Gea.
"I feel very sorry for him," Carroll told BBC Radio 5 live.
"You need the manager's backing and I think he's got that because he's played a lot of games since he's come in."
Northern Irishman Carroll, 35, who now plays for Olympiakos in Greece, said: "He's a very good keeper. He's still young.
"There have been a lot of changes at Manchester United across the back four this season with injuries so I think it's very difficult for him at the moment."
Carroll, who joined United from Wigan in 2001, continued: "I had four years there but I made a lot of mistakes as well.
"Once you make mistakes, people just never forget about it so I think as a young goalkeeper it's very hard.
"Manchester United are one of the biggest teams in the world and if you make mistakes the press are always on your case all the time - that's what happens at a big club like Manchester United."
The latest criticism for De Gea came after he failed to punch clear in the lead-up to Tottenham's equalising goal in Sunday's 1-1 draw with United - despite making a number of important saves to keep the London side at bay in the second half.
Carroll said: "I think he had a decent game against Spurs but the goal came from a cross.
"You have to be a lot stronger from crosses. I think he knows that himself. His shot stopping is fantastic but he knows he has to work harder from crosses."