Bradford reaching League Cup final one of greatest football upsets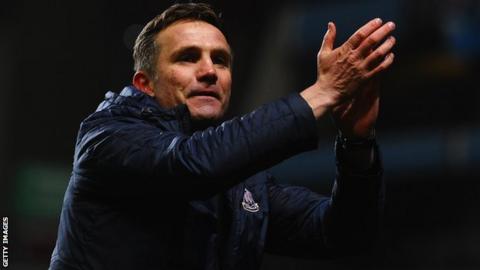 At Villa Park
Phil Parkinson was dazed and still bearing the stains of a Champagne soaking as the realisation started to sink in that he will be the man to lead Bradford City - League Two Bradford City - out at Wembley for the Capital One Cup final.
Bradford's manager was wearing an expression of such glazed elation after the 4-3 aggregate win over Aston Villa that the first question he took in his post-match media briefing was a concerned: "Are you all right?"
Parkinson, stock rising as Premier League victims pile up around him in this remarkable campaign, was more than all right. He was ecstatic - as was his football club, its supporters and a city that will revel in the publicity and goodwill this victory will bring.
Villa Park had just witnessed compelling evidence that dreams can come true in the unforgiving, ruthless modern game. Bradford City's 6,500 travelling supporters had witnessed it with their own eyes as they danced from their places high in the North Stand and out into the snow.
Some may even regard the Bantams' achievement as restoring their faith in the old game, a victory to demonstrate that not all the glory inevitably lands in the laps of the richest and most powerful.
It is worth stating the plain facts. Bradford City have become the first team from English football's fourth tier to reach the final of this competition since Rochdale in 1962 and have taken out three Premier League teams - Wigan, Arsenal and now Aston Villa - in the process.
Parkinson agreed he and his players had made history and even suggested some alterations to their Valley Parade home to mark the achievement.
He said: "There is a '1911 Lounge' at the club to celebrate our FA Cup victory that year. There will be a lounge named after these players and their cup run and what they achieved."
The builders and decorators should wait until after the final on 24 February against either Swansea City or Chelsea. Who knows how this heartening story will end?
Bradford's achievement in this cup campaign can stand comparison with any of the great giant-killing tales dotted throughout English football's history.
Everyone will have their own view of which is the greatest. Sunderland beat the great Leeds United side to win the FA Cup at Wembley in 1973, Third Division sides Queens Park Rangers and Swindon Town beat West Bromwich Albion and Arsenal of the First Division to win the League Cup in 1967 and 1969 respectively.
Hereford United's win as a non-league side against Newcastle United in 1972 and Sutton United's victory against Coventry City in 1989 - both in the FA Cup - will also always have special places.
Bradford fans will place their feat in the context of beating three teams from the top flight in succession, one 62 places above them in the league ladder over two legs, to reach Wembley, where their greatest moment may yet await them. It is, without doubt, one of the great cup achievements.
It is a human as well as footballing story. This is a club and a city that have known great tragedy - 56 people died and many more were injured in the fire at Valley Parade in 1985. It is a history that will add poignancy to the joy of their day at Wembley.
The club itself has been in administration twice and Parkinson made a point of stressing what the aggregate win over Villa would mean to the city as well as its football team as he said: "It is massive for the city of Bradford. I think it can galvanise the whole area.
"There hasn't been a great deal to cheer about but I am so happy that the supporters can go into work with their heads held high. It was a chance to make history and these lads will be remembered in the history of Bradford City for years to come."
And anyone tempted to suggest Wembley may be deprived of a little of its usual gloss by the presence of a League Two side in a major final has not sampled the passion, noise and fervour the Yorkshire side's supporters brought to both legs of this semi-final. Whoever they play, their fans will illuminate and savour the day.
The James Hanson headed goal that knocked the stuffing out of Paul Lambert's side on Wednesday is the symbol of this unlikely story. Celebrated in song for his former career stacking shelves in the Co-op, Hanson rebuilt his career after being released by Huddersfield as a teenager.
He made light of a broken toe by having an injection 15 minutes before kick-off to ensure his name is written in Bradford folklore.
The 25-year-old scored in between Christian Benteke's first-half strike and a late goal from Andreas Weimann that turned the four minutes of stoppage time into torture for the visiting fans, who could not dare to dream of Wembley until referee Phil Dowd sounded the final whistle.
The team pieced together by Parkinson at a cost of £7,500 can now deservedly take its place on English football's greatest stage. Their record will ensure they are not taken lightly by whoever they play and, of course, a victory there would bring Europa League qualification.
This season's most remarkable cup story has one more chapter to be written - and it could be the most dramatic of all.