Brazilian football may soon enjoy more of their home-grown talent

By David Bond
BBC sports editor
Last updated on .From the section Football53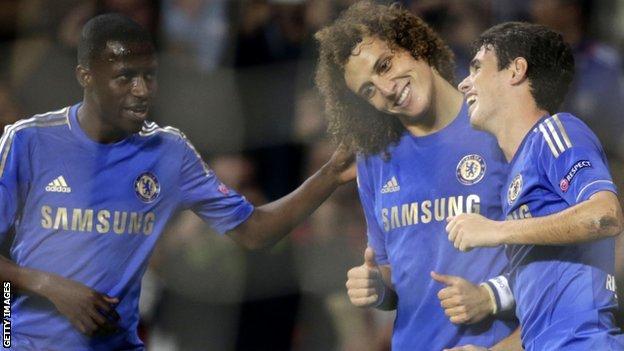 A new survey published this week by a Swiss football think tank showed, once again, that Brazil is the biggest exporter of football talent to Europe's leading clubs.
For the fourth year running, the home of the beautiful game provided Europe's 478 top-division sides with over 500 players - nearly double the second biggest exporter, France.
The report by the CIES Observatory Group and information on the Sporting Intelligence website emphasises just how reliant the Premier League is on foreign talent, with 55% of players coming from outside England.
But while Brazil's production line supplies many of the 31 European leagues featured in the report, few end up playing in the Premier League.
To prove the point, this season there are just 17 Brazilians on the books of the 20 Premier League clubs, including four at Chelsea - David Luiz, Oscar, Lucas Piazon and Ramires. They could make that five if they land the prized striker Neymar before the transfer window shuts next week.
Compare that to a decade ago when there were 12. The increase has been relatively marginal when one considers how the financial might of the Premier League has grown in that time.
So why should this be the case?
One of the reasons is undoubtedly cultural. It might be a bit of a cliche, but South American players have traditionally not settled as well in English football as they have in Spain, Portugal and other southern European countries. That is as much to do with the style of football played here as it is to do with language and climate.
But there are other factors. One of them is the Home Office's work permit rules which require all overseas players (from outside the European Union) to have played in 75% of their national team's matches during the previous two years. Exceptions can be made if the club can prove the player is a special talent who can make a big contribution to football in the UK, but this is rare.
Given the huge demand for regular members of Brazil's national team from clubs all over Europe it is understandable that the Premier League might miss out on some of the big signings.
But the vast majority of the 515 players from Brazil playing in Europe will not be in contention for the national team, let alone regulars in Luis Felipe Scolari's side. Other countries are simply more lenient when it comes to work permits.
Another explanation could be the Premier League's tough rules on third-party ownership of players.
The practice of agents and other companies and individuals owning or part-owning players was outlawed by the league following the Carlos Tevez affair, which ended with West Ham being fined £5.5m for failing to disclose the fact he was part-owned by his agent Kia Joorabchian.
When he moved to Manchester United, Joorabchian and the rest of the consortium that owned the Argentina international had to be bought out to guarantee his new club were the sole owners of his registration.
In Brazil and South America, third-party ownership is seen as an essential part of footballing economics. Rather than pay out huge transfer fees for top talent, clubs effectively lease or rent the players from agents or groups of companies and the individuals that own them.
One of the reasons often cited by advocates of the system is that it helps to stop the drain of talent to Europe by making players more affordable.
Those who do leave tend to head to leagues and countries where there are no rules barring third-party ownership such as Portugal, Spain, Turkey and now eastern Europe.
But all that could be coming to an end following a decision taken by Uefa last November.
European football's governing body now wants to prohibit third-party ownership in all member countries. They say it takes money out of the game and creates instability because those third parties who own the players are always looking to profit from selling players on.
Their plan is to lobby Fifa to introduce a new worldwide regulation. If Fifa refuse then Uefa will look to introduce their own rules to ban a practice president Michel Platini said recently was "ethically and morally not good".
If Fifa bat it back to Uefa and Platini does indeed act, then might we see fewer Brazilian players heading to Europe?
Of course clubs could simply choose to buy out the third-party owners but many of the smaller leagues and countries may find it too expensive to sign emerging Brazilian talent if they have to buy rather than lease the players.
All of this of course could be good news for Brazilian football, which wants to retain more of its star players to boost a domestic league that has traditionally been outmuscled financially by Europe's richest clubs.
Brazil is investing heavily in 12 new or redeveloped stadiums for next summer's World Cup. The great fear is that many of these will become white elephants but if they can stop the flow of leading players to Europe, then maybe one of the legacies will be a much stronger domestic league boasting the best players developed there.
The big European clubs will always be the wealthiest and most powerful and will therefore always attract the top players wherever they come from.
But Uefa's new regulations might just see a slowing down of that drain from Brazil to Europe.