Jose Mourinho wants Portugal job but does not rule out England role
Last updated on .From the section Football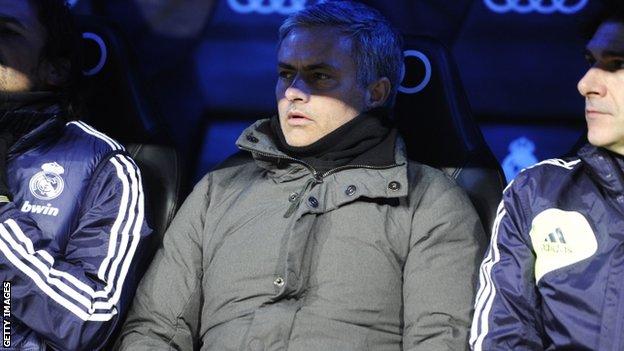 Jose Mourinho says he would love to coach his national side Portugal in the future - and also refused to rule out taking on the England job.
"I would love to be the national team coach one day. I think the Portuguese people are waiting for that to happen," he told RMC Sport.
"I can never say never [about managing England]."
In his interview with the French radio station, the 49-year-old said that he almost took the England job "in 2007 or 2008" when Steve McClaren's departure was followed by Fabio Capello's appointment.
In October, he said he will return to English football when his reign as Real Madrid manager ends at the Bernabeu and on Wednesday reiterated his love for football in England.
"England is my first love," he said. "Well, my wife is my first love but England is my first love from a footballing perspective."
Mourinho also confessed to rejecting an approach from Real Madrid while he was in charge at Chelsea for three years from 2004 where he won two league titles.
"I had the opportunity to come here in 2006 or 2007," he said. "I was at Chelsea and I couldn't have said yes at the time.
"When they came back a second time, it was very difficult to say no.
"There are positive and negative things (about it), like at all clubs. I'm glad I came here and, having had the opportunity to win competitions in Spain, I'm glad to have had this experience."
Real, who clinched the title last season, are 15 points behind Barcelona and seven points adrift of Atletico Madrid.
And the Portuguese boss conceded: "The La Liga title is impossible now, there is too big a gap. We have to focus on other goals like the Copa del Rey and the Champions League.
"It does no good to obsess over these things, obsession only makes things more complicated. Nothing will be easy.
"We need to stay calm and make the most of every opportunity."
The former Porto and Inter Milan manager rejected suggestions he could replace Carlo Ancelotti at Paris St Germain in the summer.
PSG, with the help of heavy investment, have recruited Zlatan Ibrahimovic, Thiago Silva and Ezequiel Lavezzi and lead the French Ligue 1, but only on goal difference from Lyon.
"No, I don't think I will coach PSG," Mourinho said. "The success of PSG with Ancelotti and [sporting director] Leonardo means they have no need for another coach. I hope everything goes well for Carlo and PSG."