FA Cup: Norwich City v Luton, the 1959 semi-final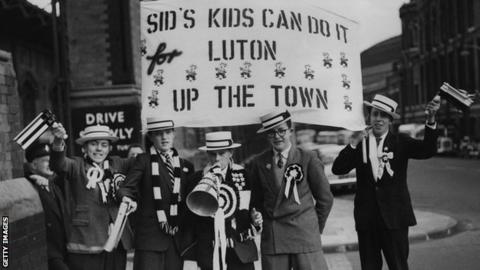 A club in the lower reaches of English football, recovering from financial meltdown, braced for an FA Cup tie against top-flight giants.
In 1959, it was Norwich City who fitted that description. In 2013, the same is true of Luton Town.
The two sides face each other in the fourth round on Saturday, almost 54 years since the greatest FA Cup runs in both clubs' histories came to a head in the semi-final.
Norwich, now a Premier League side, defied their Division Three status at the time to embark on a Cup campaign that included wins against Tottenham and the Busby Babes of Manchester United.
However, Division One Luton overcame the Canaries in the semi-final, winning a replay 1-0 at St Andrew's following a 1-1 draw at White Hart Lane, to reach the only FA Cup final in their history, which they lost 2-1 to Nottingham Forest.
Terry Allcock wore the yellow and green of Norwich that season and went on to become the club's second highest all-time goalscorer.
"The circumstances are very much reversed now," the 77-year-old told BBC East Sport.
"In '59 we were the underdogs, Luton were the premier club. But internally we thought differently because we had already beaten Manchester United, Cardiff, Sheffield United and Tottenham.
"We were very confident we could hold our own or beat them. Luton will have the same attitude and will expect to do well at Norwich [on Saturday]."
The Hatters, who had their moment of Wembley glory when they beat Arsenal to win the 1988 League Cup final, have endured half a decade of hardship, suffering three consecutive relegations between 2007 and 2009 from the Championship to the Blue Square Bet Premier.
They came within moments of going out of business in that period, but have now found a steadier financial rock on which to rebuild.
It is a process Norwich have been through themselves, not only when they staved off bankruptcy in 1996, but when Sir Arthur South and Geoffrey Watling pulled the club out of £20,000-worth of debt in 1957.
"Prior to me coming, I didn't realise Norwich had been completely bankrupt and needed a collection from around the ground to survive for another season," said Allcock, who still lives in the city and helps run a family funeral business.
"That Cup run was a complete sell-out from start to finish and it re-stabilised the club financially. It's something I didn't realise until a year or two afterwards when it was pointed out to me."
He added, mischievously: "If I'd have known that I would have never come."
The exploits of the 59ers - as they have become known - remains part of Carrow Road folklore.
Anticipation of the semi-final on the neutral soil of Tottenham's White Hart Lane on Saturday, 14 March 1959 brought Norfolk to a standstill.
"Unless you were there, it's difficult to know the atmosphere that was created," said Allcock.
"When we came back from Tottenham in the first game there were five or six thousand people at the railway station to meet us.
"There were so many people they had to put us on the luggage trolley to wheel us through. It was quite unbelievable. The schools all stopped their lessons to listen to the games.
"Occasions like that will never be equalled. If Norwich did it now it wouldn't be the same because they were a lesser team then. To be a giant-killer was something out of this world really."
Luton went on to win the replay and with it achieve their greatest FA Cup feat.
The current breed of Hatters are attempting to write a new chapter and, after beating Championship Wolves in the third round, an upset at Carrow Road at the weekend would be more reminiscent of Norwich's 1959 story than those of their own predecessors.