Paolo Di Canio: No Crystal Palace bid for Matt Ritchie
Last updated on .From the section Football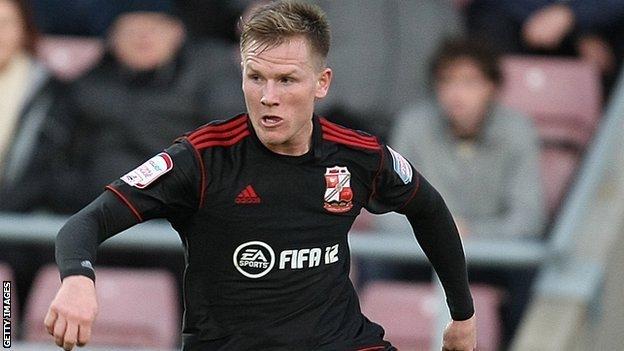 Swindon Town manager Paolo Di Canio has denied reports Crystal Palace have bid for winger Matt Ritchie.
Di Canio told BBC Wiltshire: "There wasn't any official request and no official amount of money they are ready to spend for him."
Ritchie was the subject of an approach from Bournemouth last season.
It was reported at the time that the Cherries wanted to take the former Portsmouth midfielder on loan in January 2012 and then pay £400,000 for his services in the summer.
But Di Canio disputed the fee, saying: "Some reports were £400,000, some were £500,000. Last year a club came and they proposed to us nearly £1m for Ritchie.
"That is the truth. This is the only offer we have had. Last year a club came with a deal close to £1m. This year we did not receive any offers from any club."
Ritchie's nine goals and nine assists in 31 games for Swindon this term have made teams higher up the league hierarchy take notice, and he admitted on Wednesday that he was "flattered" by the interest.
"To be linked with clubs is flattering but I'm at Swindon and need to concentrate on what I'm doing here," he said.
When Ritchie was being courted by Bournemouth last year, Di Canio publically placed a £2m price tag on his star player and he has reiterated that only "crazy money" will tempt him to consider any offers.
"I don't expect nothing because my players are not for sale," continued the Italian. "Obviously if someone comes for crazy money, even Messi is for sale, it depends. Even for good money for my players' level they are not for sale.
"Matt is my player and I like him, so my opinion is a manager's opinion - give me £20m. Is it crazy money? I'm joking, obviously - £15m is OK."
Meanwhile, the club have confirmed loan midfielder Danny Hollands will be out for six weeks after fracturing his foot in the 2-0 win over Shrewsbury.
The Charlton player's deal at the County Ground is due to end in February but the 27-year-old is likely to stay with Swindon during his rehabilitation period.