Scotland: Gary Caldwell retains World Cup hopes
Last updated on .From the section Football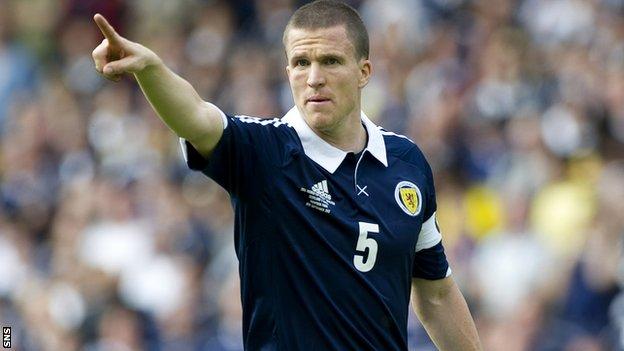 Scotland defender Gary Caldwell is refusing to give up hope of a place at the World Cup finals in Brazil.
The Scots sit bottom of qualifying Group A, with a mere two points from four matches.
But Caldwell said: "I wouldn't count it out. I don't think you ever count it out in football.
"You look at the next three games before the end of the season [Wales, Serbia and Croatia] and you would realistically have to win all of them."
The 30-year-old Wigan captain added: "If you did that, you would be right back in the group.
"I don't think the manager or the players will count out qualification just yet while it's still possible."
When Scotland meet Wales at Hampden in March it will mark the competitive debut of new manager Gordon Strachan and Caldwell is backing his former Celtic boss to make a positive impact.
"He's a great choice for Scotland and I think he was the only choice, really, when you see the people who were up for it," he explained.
"He was definitely the stand-out choice and I'm glad the SFA [Scottish Football Association] have got him.
"He will bring a real passion to Scotland. You could see in his press conference how proud he was to get the job, it means a lot to him."
Craig Levein was removed from the post following poor results but Caldwell believes Strachan's predecessor was on the right track.
"Craig understands football, he knows players have to get on with the job," he added.
"We all respected him and had a great time under Craig but he will know we now have to focus our efforts on the new manager and give everything we can to him, like we gave everything to Craig.
"Sometimes it just doesn't work out in football. I'm sure he will be back in a job soon and I'm sure he will be our biggest fan and supporting us to do well.
"I think Craig did a good job. The results we've had so far have been disappointing but a manager will tell you he puts a team out and it's up to the players to get the results.
"The players just fell short at the start of the campaign and that's why Craig lost his job.
"Gordon will see a good nucleus of players that he can pick from and he will just try to bring his own methods, his own ideas, to tinker the team, to maybe change formations and do a bit of coaching with us that will improve us and make us a better team.
"There's not a lot that needs to be changed, I don't think, but I'm sure he will have his ideas about what to do."