Aldershot Town's Danny Hylton relieved suspension is over
Last updated on .From the section Football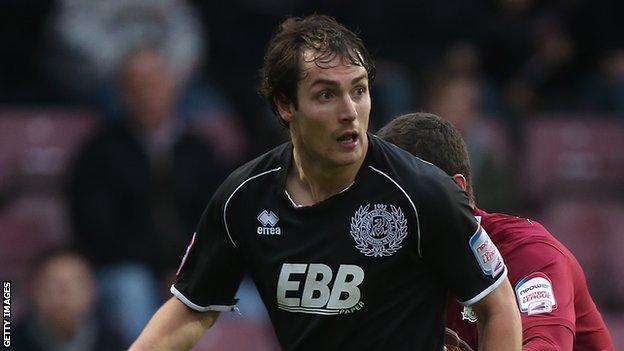 Aldershot striker Danny Hylton is relieved to have completed his three-match suspension in time to play in their FA Cup tie at Middlesbrough.
He told BBC Surrey: "If I wanted volunteers to come down I only thought it was only right to do my bit as well.
"I thought there wasn't a hope in the world of playing [in the Cup]."
Hylton, who received his ban for a red card in the 3-0 win over Rotherham in the third round, had faced a nervous wait to see if Aldershot would be able to complete three matches before the trip to the Riverside.
Their match at York City was only one of three League Two games to beat the weather last Saturday, while their game against Northampton Town on Tuesday also came under threat.
"I had Alex Rodman [Aldershot winger, who is on loan at York] on weather watch for me all last week up in York," he said.
"He was telling me there was no way the game was going to be on but somehow their groundsman got the game on.
"It was horrible conditions against Northampton and I couldn't quite believe the game went ahead.
"I went down on Monday and did my bit but there were loads of people there before me and they were shovelling away and worked throughout the day. It was a tremendous effort.
"The boys wanted to play and I wanted it on to be available for selection for Saturday."
The game against Middlesbrough will be the first time the Shots have played in round four since their reformation in 1992 and Hylton has played a major part in their Cup run.
He has scored seven goals in the FA Cup, netting decisive goals in each game and was voted player of the second round.
"It's not really been free-flowing in the league, but it's been a lucky Cup for me this season," he said.
"Hopefully I get the nod Saturday, it continues and we can create some more history for the club.
"I am just thankful I am available and if I do play I will do my best to keep the run going."