Brentford- Chelsea: Uwe Rosler calls for Bees to focus
Last updated on .From the section Football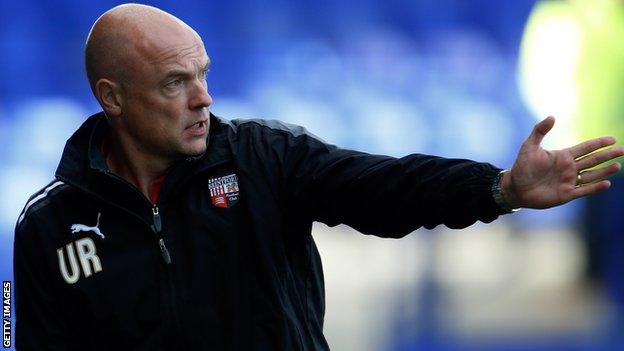 Brentford boss Uwe Rosler says his side must not let the occasion affect them when they face Chelsea in the FA Cup fourth round.
The Bees welcome the Premier League side to Griffin Park on Sunday.
Rosler told BBC London 94.9: "It is important that we turn up for the occasion and do not get overwhelmed.
"We are facing a massive challenge. We need to have an extremely good day, individually and collectively, and also need a bit of luck."
He added: "The stadium will be totally sold out and it will be interesting to see how our young players respond in those circumstances.
"It is a welcome distraction from our number one target this season, which is success in the league.
"It is important we address the game with the same mindset as we always do although our chance [of winning] is small."
Rosler, who extended his stay in west London until summer 2015 this month, says Chelsea could underestimate his side, who are challenging for promotion from League One.
"When you are a Premier League side, who have won the Champions League last season, and are playing against a team in the third tier, in a stadium like we have, it is a normal human reaction that the Chelsea players will underestimate us.
"That is our chance. We'll try and compete against the European Champions. It will be very tough but we are looking forward to it.
"We are respectful Chelsea Football Club and what they have achieved but when we walk over that line we don't want to show them any respect."
Chief executive Mark Devlin says the Bees will benefit from the match whatever the result.
Griffin Park is sold out, the tie is being shown live on TV and Devlin estimates that the club will make around £300,000 from the game.
"It is substantial revenue for the club," he said.
"It is not far off 10% of our normal annual turnover.
"We have already pledged we will put a percentage of that back into the playing squad.
"For the long-term future, we really need to be playing a division up.
"We want to enable Uwe Rosler and [sporting director] Mark Warburton to go out and maybe go for some players we couldn't have done previously."