Swansea boss Michael Laudrup criticises Eden Hazard incident
Last updated on .From the section Football236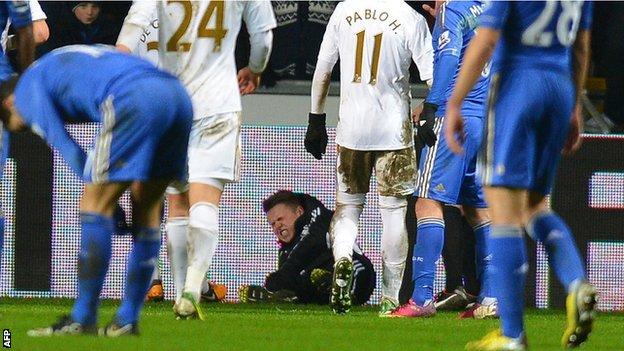 Swansea boss Michael Laudrup criticised Chelsea's Eden Hazard for kicking ball boy Charlie Morgan during their 0-0 Capital One Cup semi-final, second-leg.
The incident, which saw Hazard sent-off, overshadowed Swansea's 2-0 aggregate win.
The Swans' win over European champions Chelsea at the Liberty Stadium saw Swansea reach their first major final.
"Not everybody but a lot will talk about the red card. That was a bad incident," Laudrup said.
"I completely understand the player was frustrated because his team is behind and the ball boy should have given away the ball.
"But again there are things you can never do, you can't kick another person or a boy like that."
With 10 minutes of a tense match remaining, 17-year-old Morgan went to retrieve the ball as it went out of play behind the home goal.
Hazard approached Morgan, seemingly frustrated at the speed with which he was carrying out his duties, and the youngster fell to the ground as the Belgium midfielder attempted to get the ball from him.
The Chelsea player then tried to kick it from under Morgan, but appeared to make contact with the youngster as he dislodged the ball.
"I think he will regret it, Hazard, who for me is a great player, a great young player," added Laudrup, speaking to Radio 5 live.
"But I think when he sees the images on the television he will regret it when he's calm again."
A Swansea City spokesperson confirmed that no further action would be taken over the incident and that Morgan - whom the club refused to name - and Hazard had met amicably after the game.
In the immediate aftermath of the game, a Swansea spokesperson said: "The police have interviewed the boy. He and his father spoke to police and they are not pressing charges.
"He's been into the Chelsea dressing room and shook hands with Hazard.
"John Terry and Frank Lampard were exemplary in welcoming him into the Chelsea dressing room."
Hazard later apologised over the incident with Morgan and police say the player will not face charges.
Regarding the rest of the game, Laudrup had only praise for his side after they won through to Wembley on 24 February against League Two Bradford City - who humbled Premier League Aston Villa.
"It's incredible, first of all to arrive to the final for the first time ever it's amazing," Laudrup said.
"But then again to beat the European champions over two legs, not conceding even one goal, I think that's absolutely fantastic.
"There were moments when we had to defend very deep because it's a great team of great players, but what gave me a lot of confidence was our start.
"We had the two first chances: Wayne Routledge had one ball blocked by a defender and Michu has a one-on-one with Petr Cech and after that I said we're in the game."
Swansea central defender Ashley Williams, the Wales captain, preferred not to dwell on the incident with Hazard.
"I didn't see the first bit too much, I just seen him... it looked like he kicked him in the ribs but we don't want to speak too much about that now," Williams said.
"All the hard work has paid off and we get a trip to Wembley, which is what we all dreamed of as little boys.
"We didn't want to just sit back on the two goals we got up there, we wanted to try and score a goal but I think we played it perfectly."
Despite Swansea facing a side three divisions below them, Williams warned that Bradford had more than proved their worth.
"We'll do our work on them at a later date but they can't be taken for granted," Williams added.
"They've beaten three Premiership sides now, some of those teams have beaten us this season so we won't be taking them for granted and hopefully it'll be a really good game."