Ebbsfleet United: Jessica McQueen explains financial appeal
Last updated on .From the section Football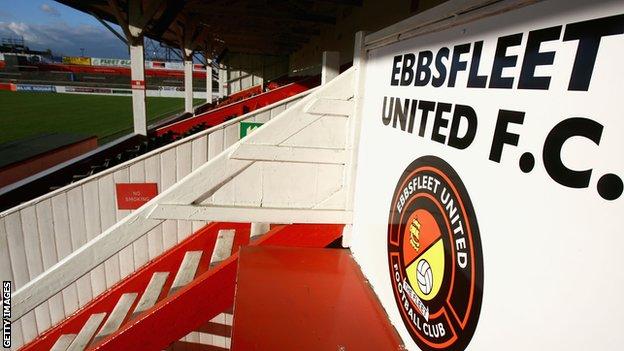 Ebbsfleet United chairman Jessica McQueen has played down an appeal for money from the club's fans.
She told BBC Radio Kent: "It is extremely difficult when games are called off [because of weather].
"It is not about instant problems. We don't want to start spending February's money in January."
McQueen says that the postponement of recent matches against Hereford and Tamworth have caused issues for the Blue Square Bet Premier outfit, but that all the club's wages are up to date and there are no outstanding bills.
"There is nobody there [at the club] who hasn't been paid," she continued. "We haven't got people banging on the doors saying 'you pay this or else'.
"We have had lower gates this year and the problems don't go away. Not having a game is huge for a club like us; not having two games is enormous.
"You get to the stage where February is looking pretty good but we can't go spending that money as we will be pushing the problem back.
"We've still had to buy in supplies which now sit in the freezer or the cellar, and there is a cost for programmes to be printed.
"It's about us as a club trying to take a pragmatic view but also rally the troops."
The statement said the postponement of fixtures had left the club "strapped for cash" and warned that supporters should "lose your pounds or lose your club".
"We need to get the fans' attention," McQueen said. "If you go on a soppy statement people will just ignore it.
"We sat down and thought 'how can we get everyone's attention?'.
"Everyone talks about losing a few pounds [in weight] in January. We're saying to the fans 'lose a bit of poundage [in money] at the start of the new year' and this is a quick way of doing it, and it will help the club."
The Kent club have been owned by the MyFootballClub website since February 2008.
McQueen called for talks on the club's future late last year after the club's supporters club raised concerns over the viability and sustainability of the MyFootballClub's model.
"With our ownership model we do get some adverse publicity and have fans who don't like one model," she added.
"It is time to put that all behind you. We need everyone to get behind the football club.
"Regardless of who they are, they all say the love the football club so let's have them showing how much they love the football club."