Football Supporters' Federation calls for £20 away ticket price cap
Last updated on .From the section Football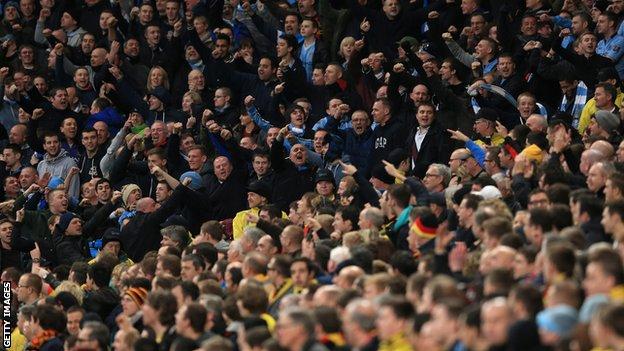 The UK's largest supporters group is launching a campaign to cap the price of away tickets at £20.
Rival fans are being urged to join forces to back the Football Supporters' Federation's Twenty's Plenty drive.
The FSF fears that growing ticket prices will hit attendances and affect the atmosphere at games.
"Without away fans, the atmosphere at games dies and football loses a large part of what makes it so special," FSF deputy chairman Martin O'Hara said.
The FSF will be holding a series of meetings around the country to explain the campaign to fans and to gather support, with the first one taking place in Manchester on Thursday evening.
Its bid to tackle high ticket prices was sparked when Manchester City fans protested at being charged £62 a ticket for a Premier League match at Arsenal on 13 January.
Many City supporters stayed away, with the club returning around 900 unsold tickets out of a 3,000 allocation. Some of those who went held up a protest banner at the Emirates Stadium that read: "£62 - where will it stop?"
O'Hara added: "Travelling supporters spend the most time and money on their team and that deserves recognition and reward.
"In the short term, clubs might make a few extra quid by squeezing away fans dry but long-term vision is required."
In October, the BBC's Price of Football survey revealed that the average cost of the cheapest adult ticket in the top four divisions of English football had risen by 11.7% in 12 months - more than five times the rate of inflation.
The survey compared ticket prices at 166 clubs in 10 divisions across British football, including the Blue Square Bet Premier and the Women's Super League.
O'Hara argued that prices for away fans must come down, or the atmosphere at matches could be ruined.
He said: "Who wants to go to games without away fans, games without passion?
"We believe that an away ticket price cap of £20 would make football more affordable and halt the decline in away fan attendances."