Eden Hazard sees red as Chelsea soap opera goes on

By Phil McNulty
Chief football writer
Last updated on .From the section Football1008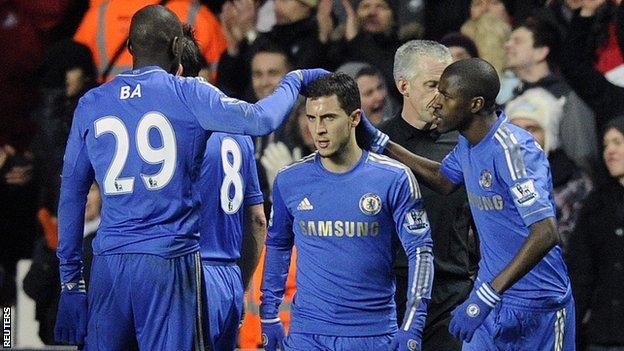 On a night when the award for best soap opera was handed out in London, Chelsea once again proved that if they were turned into a television programme they would claim the prize every year.
And yet this outstanding achievement for manager Michael Laudrup and his players is being overshadowed - although not in Swansea presumably - by what has already been labelled "Ballboygate".
Once the word "gate" is attached to any event it is a cast-iron guarantee of notoriety - and the description certainly fits Chelsea's Eden Hazard receiving a red card from referee Chris Foy for kicking Swansea ball boy Charlie Morgan as the clock ticked down on their Capital One Cup aspirations.
The incident happened with 10 minutes remaining of the goalless draw which gave Swansea a 2-0 aggregate win, Hazard kicking out at the 17 year old behind the goal in clear frustration at what he saw as deliberate time-wasting by the youngster, who was lying on top of the ball rather than let the Belgian retrieve it.
The instant and partisan response of Chelsea's official Twitter feed was: "Has football gone mad? Hazard is sent off for kicking the ball under a ball boy attempting to smother the ball rather than return it."
The tweet was later removed with an accompanying apology but that first reaction may have posed a very fair question.
Football may not have gone mad - but if one club is a symbol for the permanent turbulence that swirls around our national sport away from the actual playing of the game, it is Chelsea. Damage limitation has almost become a way of life at Stamford Bridge.
There has been condemnation of both Hazard and the ball boy and apologies were exchanged after the game as Chelsea moved swiftly to try and bring some control and calm to the situation. Swansea themselves highlighted the "exemplary" treatment of the ball boy when he was invited into the dressing room after the game.
Former Chelsea and Scotland winger Pat Nevin was forthright in his views on the ball boy's behaviour. He told the BBC: "I was very, very disappointed with the way the ball boy acted - and I say acted. He must have been watching footballers by the way he rolled around there and pretended to be more injured.
"He's only got one job and his job is to go and give the ball back. What does he do? He keeps the ball. His behaviour was disgraceful."
Nevin added: "I would have kicked the ball out from underneath the ball boy if he was hiding the ball like that - 100%."
Swansea manager Laudrup sympathised with Hazard's frustration but insisted: "He will regret it when he sees it. I totally agree that obviously the ball boy should have let the ball go but he was pushed first and he goes on top of the ball then he kicks him."
Under attack
He added: "I understand completely as a player when you are behind or you are under pressure and your pulse is very high. Sometimes you say and do things that are a little over-reacted but there are things you cannot do, never."
But Hazard faces a suspension and a potential Football Association investigation as they review video footage, while Chelsea once again find their image under attack after the latest episode in a seemingly never-ending saga that takes place in and around Stamford Bridge.
In September, Chelsea captain John Terry was banned for four games by the FA and fined £220,000 for racially abusing Queen Park Rangers defender Anton Ferdinand in a game at Loftus Road on 23 October 2011. Terry had earlier been cleared of racially abusing Ferdinand by Westminster Magistrates' Court.
Defender Ashley Cole was fined £90,000 for using an expletive on Twitter to describe the FA amid the fall-out from the Terry racism case.
Then in November referee Mark Clattenburg was cleared by an FA investigation after Chelsea made a formal complaint that he had used "inappropriate language" to two of their players during the 3-2 home defeat to Manchester United in the previous month.
Intense rivalry
In relation to the same incident Jon Obi Mikel was given a three-match suspension and fined £60,000 for his behaviour towards Clattenburg after admitting an FA charge following an incident in the match officials' changing room following the loss to United.
The dramas continued as Roberto Di Matteo was sacked as manager only eight months after winning the Champions League and replaced by Rafael Benitez, a hugely unpopular figure among Chelsea fans following years of intense rivalry during his time as Liverpool manager.
Chelsea owner Roman Abramovich's choice of Benitez as interim manager has met with open hostility and opposition from many supporters to provide yet another sub-plot to the constantly turbulent existence of this club.
Now they must deal with the fall-out and further criticism that will come with Hazard's actions that left the ball boy rolling in agony and another round of negative publicity on the way.
Manchester United's Eric Cantona once launched himself into the crowd at Selhurst Park with a kung-fu lunge but to kick a ball boy is a new departure even for the Premier League and Hazard will pay the price with punishment and damage to his reputation as one of the world's brightest young talents.
Referee Foy had no option other that to send him off because his behaviour was, as chairman of the Professional Footballers' Association Gordon Taylor stated, "unacceptable."
It is unlikely in the extreme that Hazard's initial intention was to kick the ball boy, let alone hurt him. This was a clear case of a player chasing a game who clearly felt - and there is more than a measure of justification here - that he was being delayed by what he regarded as underhand tactics by the ball boy.
As Nevin correctly said, the job of the ball boy is to retrieve the ball as quickly as possible and return it to play - not attempt to have some outside influence on the potential outcome of a game by engineering a delay.
So there was wrong on both sides in what has already become a heated argument on a day which should simply be one of celebration for Swansea.
This was a fact publicly acknowledged with his usual good grace by the home manager Laudrup but there can be no defence for Hazard's behaviour, which was hot-headed and unprofessional in that it made Chelsea's already tough task in over-turning Swansea's lead an impossible one.
Chelsea might say they can now concentrate their efforts on the FA Cup and Premier League - if only life at Stamford Bridge was that simple.