Uefa 2020 airport criteria could scupper Millennium Stadium plan
Last updated on .From the section Football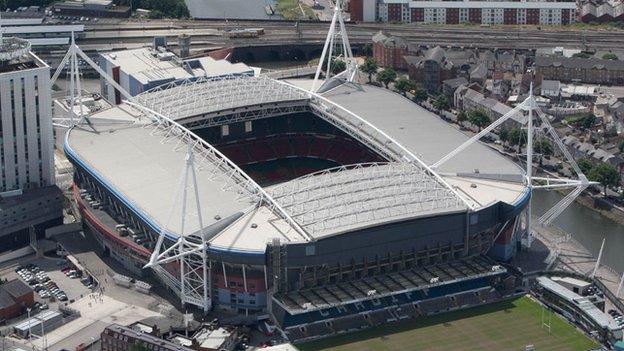 Wales' hopes of staging Euro 2020 matches at the Millennium Stadium could be jeopardised because the country has only one airport.
Uefa planners are proposing that all 13 host cities will have to be served by two airports or one with two terminals.
Cardiff Airport has one terminal, with the next nearest airport in Bristol.
The Football Association of Wales says it would like to stage matches, and Uefa's executive committee is due to make a decision on 28 March.
The stringent airport requirements are aimed at keeping rival sets of travelling supporters apart.
Uefa president Michel Platini announced in July 2012 that matches in Euro 2020 could be staged in "12 or 13" cities across Europe.
At the time the plan was announced, FAW chief Jonathan Ford confirmed he wanted Cardiff to be a "host city".
"I think 2020 is a real opportunity for us," he said.
However, the FAW declined to comment on the latest development.
Dublin and Glasgow are also expected to bid for matches, and the Football Association is expected to bid to stage semi-finals and finals at Wembley.
Rival bids for the final are expected to come from Istanbul, Madrid, Berlin and Rome.
Tournament planners believe host countries will be able to play at least two of their group matches at home.
Uefa will also try to arrange groups on a geographical basis to avoid long journeys across Europe for fans.