John Motson goes under BBC Sport's Sporting Spotlight
Last updated on .From the section Football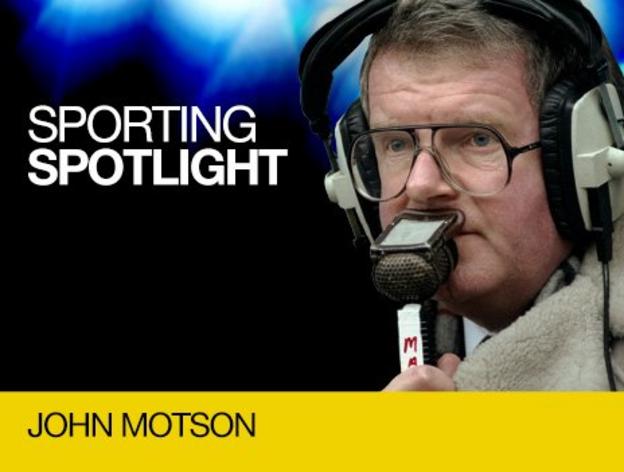 BBC football commentator John Motson discusses the best players he has seen, how football has changed during his career and his favourite Motty impersonators as he goes under the Sporting Spotlight.
Motson's career in broadcasting spans 40 years and he has covered all the major football championships: World Cups, FA Cups, and European Championships. He was also commentating on the 1989 FA Cup semi-final between Liverpool and Nottingham Forest when the Hillsborough Disaster occurred.
How did you first get into commentating on football?
I was lucky because when I left school I wanted to be a written journalist. In those days, the early 60s, the best way to do that was at a local newspaper so I joined the Barnet Press, where I learnt the trade for four years.
I then worked for BBC Radio Sheffield before someone asked if I wanted to try my hand at commentary, so I took a couple of tests and in 1971, the call came from Match of the Day.
The legendary Kenneth Wolstenholme was leaving the BBC and they were looking for a junior commentator to come in under fellow commentators Barry Davies and David Coleman and I got the nod. It was the moment that changed my life.
What would you be doing if you were not a commentator?
I would have finished up being a newspaper reporter or radio announcer. People told me I had the voice for it because I had already fronted one or two programmes on Radio Two.
At one point they asked me to present Sports Report on a Saturday afternoon but I shied away from that and then a guy called Des Lynam came along. I knew then, listening to him, that I was not a presenter, but we ended up working together for a long time on radio and television.
Which match stands out in your memory as the best one you have seen?
Hereford's 2-1 FA Cup win against Newcastle in 1972 is one which helped develop my career because it came up in the year's trial I had at Match of the Day. Nobody saw the result coming.
Later in my career, it would have to be England beating Germany 5-1 in Munich in a World Cup qualifier in 2001 when Sven-Goran Eriksson had just taken over as manager. We went there to play our oldest rivals and Michael Owen got a hat-trick.
Who is the best player you have ever seen?
The best English player I saw was Paul Gascoigne. He had the most natural ability of any English player in my commentating career. I came in at the back end of the careers of players such as Bobby Charlton and Bobby Moore, so Gazza is up there for me.
I would go for Eric Cantona as the best overseas player. He changed the history of Manchester United. I have to mention Thierry Henry at Arsenal too.
What is the funniest incident you have seen on the pitch?
It was at the Baseball Ground at Derby in the 1970s. The mud was so thick on the pitch that when the referee awarded a penalty, he could not find the spot. He paced out 12 yards and a man came round with a pot of paint and repainted the penalty spot.
How much has football changed since you started out?
Football has changed enormously. Looking back 40 years, there were no names on shirts, there were no sponsors, no commercial or corporate side to the sport, every player wore one to 11, teams came out onto the pitch separately and you could only use one substitute. It was fun in the way that winning was not what it is today.
These days, people treat it like the theatre, arriving in their seats five minutes before kick-off. It was not like that in the '70s which had a more vibrant but hostile atmosphere.
If you could take one aspect out of today's football, what would it be?
The laws of the game have stood the test of time and do not need much tampering with but to make it more entertaining and clear I think the offside rule needs clarifying. It has become far too complicated and it is much harder for the assistant referees.
Brian Clough, best known for managing Derby and Nottingham Forest, or current Manchester United boss Sir Alex Ferguson; who was the more terrifying?
Brian Clough was a complete and utter one-off. He was an amazing character and you did not know what you were going to discover when you interviewed him. It was going to be a good interview one way or the other. He could easily put you down but he could be very kind to you as well. I experienced both sides.
He was a ground-breaker because until he came along, managers had not become TV personalities. I asked one of my producers once what I should ask Cloughie and he told me, "Anything. Ask him to read the telephone directory. People will still sit up and listen to him."
Alex Ferguson is intimidating but I have seen the human side of him as well. If you have a row, the next time you see him it is forgotten. I don't think he bears grudges.
Which sporting icons would you invite to dinner?
I would love to see top-class footballers there. If former England boss Sir Alf Ramsey was alive he would be there and I would ask how he managed to win the 1966 World Cup. I have admired cricketers like Ian Botham and boxing was an interest when I was young, so I would also have Muhammad Ali.
Have you ever met Muhammad Ali?
I worked with him at the Albert Hall once when he was in the country publicising his fight against Joe Bugner. BBC Radio managed to get him as a summariser when Bugner was fighting at an event one night. He made his comments after the first round and I thought to myself that I can now say I have worked with the famous Muhammad Ali.
In the second round, Bugner decked his opponent and before I could turn to Ali to get his comments, he had taken his jacket off, leapt in the ring and started to playfully spar with Bugner. That was the last I saw of him.
You are well-known for wearing sheepskin coats - how many do you own?
I only have two. This started many years ago and the famous one is the picture of me standing in the snow at Wycombe 1990. I have had at least seven or eight since then but getting them made to measure is getting more difficult nowadays.
Who does the best impression of you?
Kevin Connolly, an impressionist on Dead Ringers, does a great one. He was brilliant at myself, Trevor Brooking and Kevin Keegan. Rory Bremner in the early days did me quite well and Alistair McGowan too. It is quite flattering and very life-like.
Have you ever been shown how Twitter works?
Gary Lineker asked me this last summer and I told him I have no interest in it whatsoever. I am too busy to even think about it. I am not on Facebook either and I don't do email. My life is very simple, it is controlled completely on a mobile phone with my texting.
How is your fantasy football team doing at the moment?
My son and I have a team in one of the newspaper leagues and it is a lot of fun. We have a conversation every week about team changes and we've won it once and came second another year. We're pretty low down this time round.
Do you still love your job as much as when you first started out 40 years ago?
I get excited about the next game as I always have. I enjoy the preparation, meeting the people, and enjoy going to football when I am not working as well. The challenge of preparing for a match is very much still with me.
What does it feel like to be a national treasure?
I don't see myself as that. You are recognised in a way because people remember the commentaries you have done and how long you have been around. The business is changing and if ever there was a celebrity status for commentators, it isn't there anymore. There were so few of us in the 1970s - Barry Davies, Brian Moore and myself became very well-known and got a lot of publicity.
Finally, have you ever been invited onto Strictly Come Dancing, or a game show on television?
I would have no interest in going on any dancing show. I have been asked to go on Question of Sport and Mastermind but I don't see what I have to gain from it. If I get a question wrong, then everybody will laugh. I have always believed in sticking to what you do best.