Swansea boss Michael Laudrup hails his club's cup 'fairytale'
Last updated on .From the section Football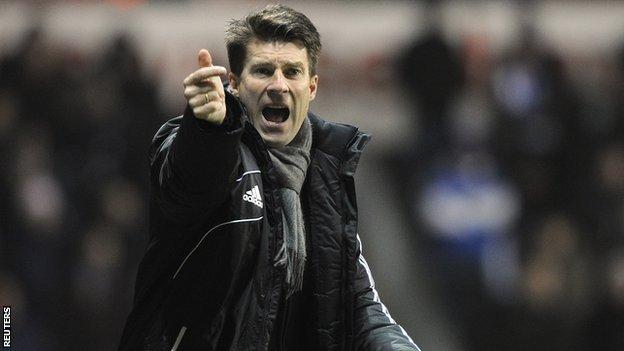 Michael Laudrup says it will take time for Swansea's progression to a "fairytale" Wembley final to sink in.
They go to Wembley with a chance to secure their first major trophy and the additional prize of European football.
"The players, the staff and the fans need a couple of days to understand we are there," said Swans manager Laudrup.
"But the good thing is we have a month to be ready.
"We have three games in the league before then, but we just need to enjoy it as it is not often in football you can enjoy.
"We can now enjoy this final for at least a month and hopefully for a while after."
Eden Hazard's sending off for kicking a ball boy grabbed most of the headlines from Wednesday's goalless draw in the second leg at the Liberty Stadium.
But that should not overshadow Swansea's achievement, coming from the brink of oblivion 10 years ago to now occupy the lofty heights of the top half of the Premier League.
A win over Bradford on 24 February - not a certainty given the Bantams have disposed of Wigan Athletic, Arsenal and Aston Villa on their way to Wembley - will add the cherry of a first major title and a European adventure the following season.
The prospect of a Welsh club representing an English league in Europe has often raised questions.
But the Football Association has already confirmed to BBC Wales Sport that Swansea are permitted by English football's governing body to play in Europe and this has "been rubberstamped" by European governing body Uefa.
So Laudrup, one of the most stylish players to grace the European stage, can potentially look forward to testing his players on the stage of the Europa League.
But Bradford stand in the way of that and Laudrup revealed he has already started assessing the Bantams, and paid a warm tribute to Phil Parkinson's side.
"The DVD has been invented so I have already seen four or five games," Laudrup added.
"I have seen the games against Wigan, Arsenal and both [legs] against Aston Villa and looking at those will be important for us.
"What we have done is a small fairytale, but what Bradford have done is amazing.
"It is great what they have achieved in beating three Premier League sides, but hopefully it stops there."